Journey mapping, or creating a customer journey map, is one of the best ways for businesses to understand their customers. With a journey map and better understanding of its customers, a business can reinforce customer loyalty and maximize the effectiveness of their marketing campaigns.
Customer journey mapping is one of the most effective tools in the marketers' arsenal. Journey maps are used to better understand the behavior of customers so businesses can tailor their messaging towards their customers' unique needs. Businesses can use journey maps to delve into the customer experience (CX) of their loyalty program members and identify areas where the CX or loyalty solution can be improved.
What is journey mapping?
Creating a customer journey map, or journey mapping, for your loyalty program is the process of understanding the experience of loyalty program members, identifying barriers, and focusing on solutions. By mapping out the customer journey, businesses can identify pain points, roadblocks, and areas where customers might abandon the loyalty program. Armed with this information, businesses can take steps to address these issues, improving the customer experience.
We often don't think of barriers or issues ahead of time. For instance, many retailers or merchants are surprised to discover that members have issues with managing their accounts or completing the onboarding process, or the reward redemption process might be much more problematic than realized.
This is one reason why businesses should strategize and take advantage of loyalty marketing consultation from the experts who pioneered the customer loyalty industry.
Key points of journey mapping
Journey mapping can be a challenge in itself. That is why it is critical to clearly outline the objectives and goals for your customer journey map ahead of time.
Brierley recommends every journey mapping campaign follow these key points to ensure success:
Define the project scope
Focus on the most critical areas first
Talk to people
Consider your different member personas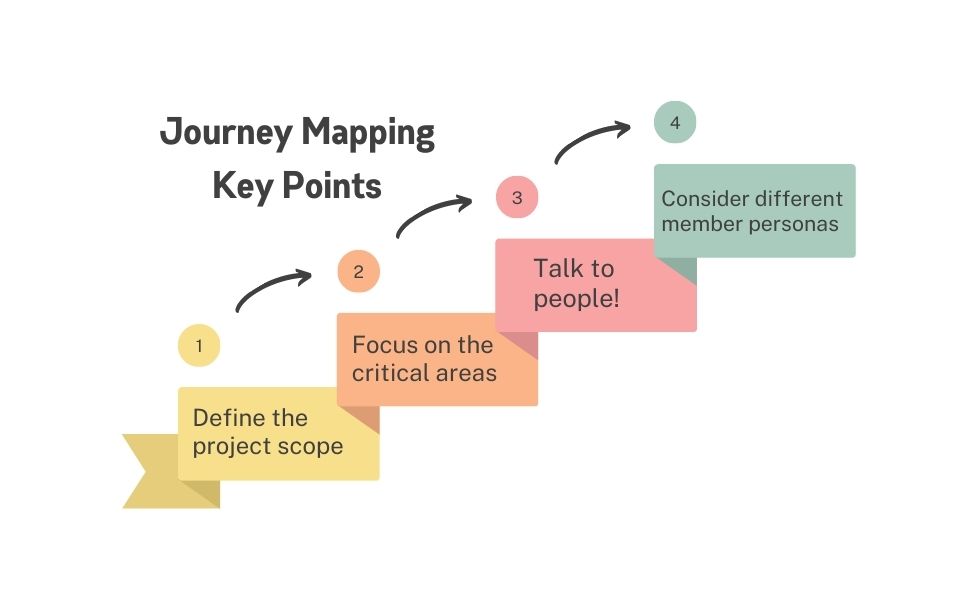 We'll discuss each of these important key points of customer journey mapping in detail below.
1. Define the project scope
When you begin journey mapping, the number of member touchpoints and interactions can be overwhelming. While all of these are important, start with just a few. As they say, you can't boil the ocean. To help narrow the scope of your customer loyalty journey map, ask the following questions:
What area has the highest amount of member complaints?
Where in the customer journey does engagement drop the most?
Is there a channel with an unusually high abandonment rate or lack of full member engagement?
Are there near-term plans to update the web or mobile experiences?
To keep your project from spiraling, it's important to outline what will — and perhaps most importantly, what will not — be part of your journey map's scope.
2. Focus on the most critical areas
One of the purposes for creating a journey map for a customer loyalty program is to find issues, gaps, or barriers that may decrease program engagement. While some may be minor, journey mapping may reveal more critical UX/CX obstacles that hurt the loyalty program's engagement.
You know your pain points, so it's important to resolve these critical issues first. Figure out which areas could have the greatest impact on customer satisfaction or transactions.
The most common obstacles discovered during the journey mapping process include problems with:
Account management
Onboarding process
Reward redemptions
As you create the journey map for your loyalty solution, remember that these loyalty program elements should be as seamless as possible. This guarantees higher engagement and ensures a better user experience.
3. Talk to people!
One of the biggest errors in journey mapping is assuming you know everything that happens.
Avoid the "ivory tower" syndrome! Go out and talk to members and employees on the front lines. Meet with store operations or call center management. Spend some time with agents and store associates. Or even drop a few questions into an upcoming member survey. Listen to this feedback and incorporate it. Most people skip this step, and so their journey map may never really solve the critical issues.
By spending some time in the front lines, you might discover entirely new barriers or problems that your members are experiencing. You can use this information to improve the overall user experience (UX) of your loyalty program.
4. Consider different member personas
Different types of members are going to have different customer or user experiences (CX/UX). Be sure to look at how every persona interacts with your touchpoints or channels.
Don't only consider your best members or your most frequent shoppers. For example, if you have less-engaged loyalty members, they may be encountering a problem or issue that decreases their engagement. By looking through the eyes of each persona, you can begin to see how the same experience might differ greatly.
Journey maps improve the customer/user experience (CX/UX)
Journey mapping a loyalty program can significantly improve the program members' overall user experience. Journey maps can also provide insights that can be utilized to design a more targeted, personalized customer experience/user experience.
By offering a more seamless loyalty experience, businesses can increase customer engagement, foster customer loyalty, and ultimately drive revenue growth. Journey mapping for loyalty programs is worthwhile for businesses seeking to enhance the customer experience, especially with the consultation of industry experts.
Start journey mapping today!
Journey mapping can be an extremely effective project. With insights from loyalty program journey maps, businesses can improve their members' experiences and, in turn, increased engagement.
But don't let it overwhelm you! Taking time at the onset to plan and to communicate these plans and objectives across the organization can help ensure success. You can also receive a consultation from Brierley's experienced experts who pioneered the loyalty industry for more help perfecting your program's journey map.
Brierley offers FAST Track Consultation modules such as CX/MX Journey Mapping to help your organization improve your engagement points with members. To learn more, visit our FAST Track Consultation page or contact Brierley today!