Digital transformation and digital acceleration are crucial for growing businesses that want an optimized customer experience (CX). Customer expectations, especially their digital experience, have evolved over the past few years, making it essential for businesses to streamline their digital communications and create a seamless, omnichannel experience. Digital transformation allows businesses to become more agile, efficient, and responsive, making it easier to keep pace with the changing landscape.
By embracing digital acceleration, businesses can minimize marketing clutter and create a cohesive experience for customers across all channels. Digital transformation is a key factor in creating a positive CX, whether through a customer loyalty program or the optimization of marketing communications.
As experts in customer engagement, customer loyalty, and digital optimization, we know that with the right approach, fast-growing businesses can stay ahead of the competition and meet the growing demands of today's consumers.
What is Digital Transformation
Digital transformation involves the integration of digital technology into all areas of a business, leading to significant changes in operations and customer value delivery. This process encompasses the adoption of innovative technologies, processes, and business models aimed at enhancing the customer experience and driving growth.
The continuous nature of digital transformation helps businesses stay ahead of the curve and adapt to the ever-evolving demands of customers. By transforming traditional business processes and operations into a more digital and automated approach, businesses can increase efficiency, responsiveness, and competitiveness, leading to a better customer experience.
Embracing digital transformation is essential for companies looking to remain relevant and grow in today's digital age.
What is Digital Acceleration
Digital acceleration refers to a company's rapid adoption and integration of digital technologies and processes, such as artificial intelligence (AI), facial recognition and verification, cloud computing, etc.
Digital acceleration is primarily driven by two things:
Need to keep pace with the business's rapid growth
Need to stay competitive in rapidly changing digital landscapes
The COVID-19 pandemic also forced many businesses to adopt digital acceleration, as many companies had to quickly adapt to remote work and find new ways to connect with customers.
Digital Acceleration Challenges
When a business decides to accelerate its digital transformation, it may encounter challenges. These could include identifying gaps in operations, technology, or a lack of internal alignment with the new digital strategy.
Another common issue is a lack of communication between departments, which can lead to conflicting priorities. For example, if the marketing department is focused on creating a new company website but the technology department is prioritizing a system upgrade, there could be a mismatch of goals and resources.
Effective communication and goal alignment from the company's leaders is crucial to overcoming these challenges. This will help ensure a successful digital transformation and improved customer experience.
5 Key Areas of Digital Acceleration
Digital acceleration has five key areas that businesses should focus on. These five key areas will help accelerate digital transformation.
These are the five key areas of focus for digital acceleration when embarking upon digital transformation:
Understand the Customer Journey
Internal Alignment & Buy-In
Frequent & Clear Internal Communications
Consolidate Internal Platforms & Sync Marketing Channels
Ensure Customer Behaviors are Tracked on any Device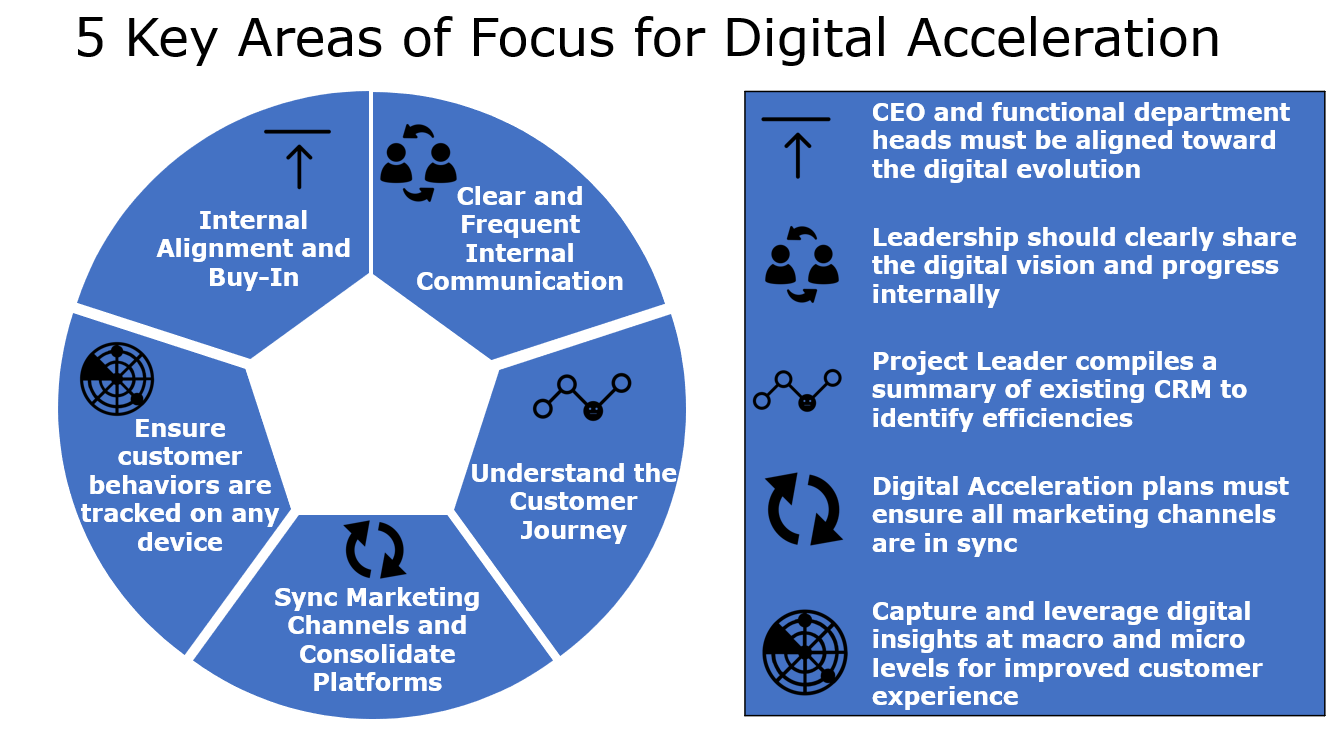 Understand the Customer Journey
In order to elevate the customer experience, it is imperative to gain as much insight as possible into the customer's journey based on current multi-channel touchpoints.
Brands within the same company occasionally create separate, individual websites — also known as microsites — to offer unique programs to their target customers. As a result, the same customer may be receiving messages from multiple brands within the company. This could drive saturation, fatigue, and confusion, pushing the customer away from the company.
Create Efficient Communications
One of the first steps when making a digital acceleration plan is to compile a summary view of the existing customer relationship management (CRM) efforts for each of the company's brands or services.
To create efficient communications and an optimal customer experience (CX), remember the following:
Avoid saturation: It quickly becomes apparent when there is duplication of effort, too many communications to the same customer, and missed collaborative opportunities.
Avoid fatigue: Customers will rapidly lose interest and become apathetic when inundated with multiple (similar) communications from various channels of the same company.
Avoid confusion: When there exists a general lack of efficiency, it can be perceived as confusing to the customer. Planning efficient interactions with the appropriate cadence and relevant content to truly engage customers is paramount to evolving the customer experience, especially when given the presence of multiple brands within a business.
By focusing on efficient interactions with the right cadence and relevant content, businesses can improve the customer experience, especially when there are multiple brands involved. Consolidating and creating efficient communications is one of the first steps in taking your business's digital acceleration to the next level.
Consolidate Platforms & Sync Marketing Channels
Maximizing customer engagement and loyalty can be challenging if your business is working internally with multiple, disconnected platforms and communicating inconsistently across your marketing channels channels.
Companies can improve their B2B customer engagement and loyalty by:
Consolidating internal platforms
Syncing communications across marketing channels
Consolidating internal platforms and syncing your business's marketing communications will reduce confusion, reinforce brand messaging, and create a consistent user experience (UX)/customer experience (CX) for your B2B clients.
Consolidate Internal Platforms
Multiple, disconnected platforms can make it difficult for businesses to improve customer engagement and create a seamless customer experience.
For example, having separate portals or marketing channels for specific brands or promotions can be confusing and overwhelming for customers (and employees). Another example can occur when customers find inconsistencies in product inventory and pricing online versus in-store.
To ensure a smooth customer journey, it's important to consolidate internal platforms and integrate them within the business' digital acceleration plan. By doing so, brands can simplify the customer experience, improve customer engagement, and build customer loyalty.
Sync Multi-Channel Marketing
Customers typically have a preferred channel with which they interact with a brand. Consistent communications across all of your marketing channels should be part of your digital transformation and digital acceleration plan. Companies should share the same messages and content across every media channel used by the brand.
Synced multi-channel communications reinforce brand messages and provide validation for one another, creating consistency for the customer.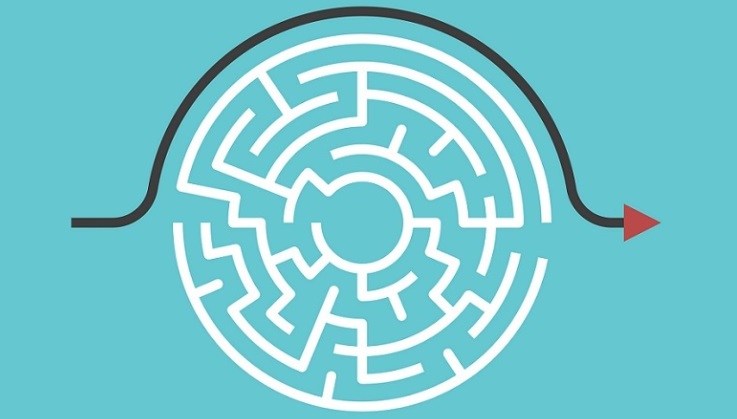 Track Behaviors & Build Insights
Tracking customer behavior is an important benefit of digital transformation and digital acceleration. By understanding how and why customers interact with your brand, you can gain important insights that can be used to improve the customer experience (CX) and contribute to customer engagement and sales.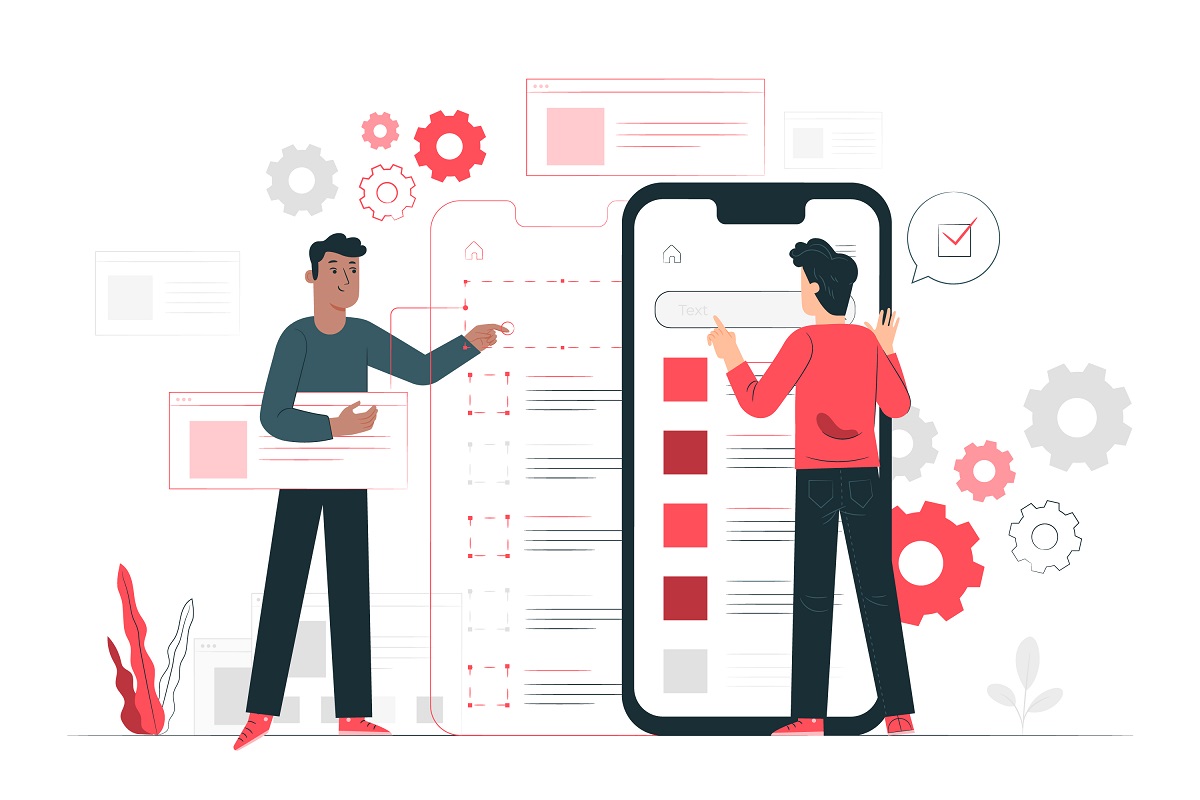 Micro-Level & Macro-Level Tracking
The most valuable benefit of digital acceleration is tracking customer behavior at both the macro and micro levels. Tracking customer behavior at both these levels provides insights that you can use to create highly-targeted communications and a more personalized customer experience (CX).
Tracking and understanding customer behavior allows brands to anticipate individual customer needs and offer personalized offers, support, and services in near real-time. This type of personalization can cause customers to bond with the brand, increasing customer loyalty and engagement.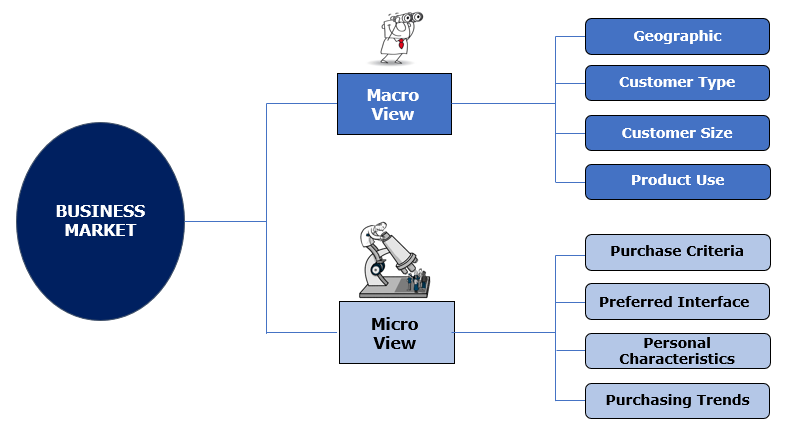 As our B2B client, the well-known electronics accessories company OtterBox provided an excellent example of both micro-level and macro-level tracking.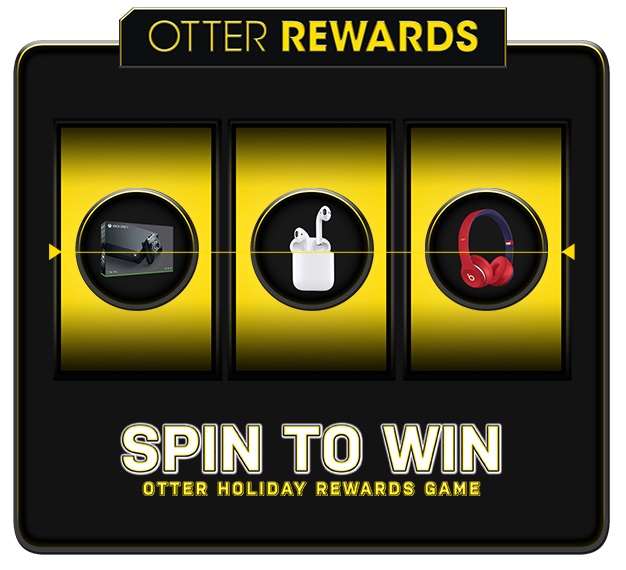 At the macro level, OtterBox saw a double-digit lift in sales associated with their first gamification campaign. Then at the micro-level, OtterBox could tailor future gamification campaigns to its members' unique profiles to educate associates about the brand, as well as increase both engagement and sales.
By leveraging insights gained from customer behavior at both the macro- and micro-level, brands can optimize their digital transformation and digital acceleration and improve the customer experience.
Build Emotional Loyalty with B2B Clients
Emotional connections between customers and brands create a level of loyalty that money can't buy. This strong connection — emotional loyalty — is what every marketer strives for and is considered the ultimate goal of loyalty programs.
Although convenience is not enough to make consumers fall in love with a brand, it can play a significant role. For example, Starbucks has a large and dedicated customer base due to its focus on providing a smooth and highly digital customer experience.
By creating an emotional connection through a frictionless customer experience, businesses can build long-lasting loyalty with their customers.
Maximize Digital Transformation & Acceleration
Digital acceleration is leading to a transformation of traditional business models and processes, with a focus on improving efficiency, customer experience, and overall competitiveness. By embracing digital acceleration and digital transformation, businesses can create seamless customer journeys and build lasting emotional connections with their customers.
To achieve this, brands must be willing to go the extra mile and deliver relevant, personalized communications that support the unique needs of each customer.
Digital Transformation & Acceleration Consultation
At Brierley, we offer a range of customer engagement and loyalty program consultation services to help businesses evaluate and enhance their customer experience.
Our team of experts can provide valuable insights and strategies to help you take your digital transformation to the next level. Contact us today to learn more and start improving your business's customer experience through digital acceleration.