Gamification is one of the latest loyalty program innovations being used to increase customer engagement and sales. Video game developers have become masters at creating and motivating player loyalty through game mechanics.
Today, successful customer loyalty programs incorporate these same stragies to do the same. This is known as gamification. Besides creating a more engaging loyalty experience, gamification also gives companies the opportunity to collect data to better understand their consumers, allowing for the creation of an even more optimized loyalty program.
Brierley is the industry leader in customer loyalty program innovation and the pioneer of new gamification tactics. In this article, we discuss the definition of gamification, how badges and other gamification strategies can be used to drive customer engagement, the most important parts of an enhanced gamified customer experience (CX), and real-world examples of loyalty gamification in action.
How to Gamify a Loyalty Program
Gamification refers to incorporating common elements from video games into your loyalty program. Specifically, gamified loyalty programs include game features designed to keep players engaged. Gamification includes aspects such as:
Collecting points
Leaderboards
Tutorials
Reward calendars
Prize wheels
Other challenges and events
Why should you include these game tactics as part of your brand's loyalty program? Including game mechanics such as those listed above in your loyalty program has been shown to increase customer engagement, improve brand loyalty, and grow sales and revenue.
Loyalty Programs and Leaderboards
Leaderboards are one of the most common and most effective tactics for loyalty program gamification. Leaderboards aren't new; since the game Space Invaders arrived at arcades in 1978, there have been leaderboards featuring the players or participants with the highest score.
Leaderboards and 'high scores' went far beyond just arcade machines, and even beyond newer and next-gen video games. Online services like Xbox Live, mobile games like Candy Crush, and even real-life games like Top Golf all have leaderboards to keep track of the best-performing players. Applied to loyalty programs, leaderboards can inspire that same aspiration, boosting customer engagement and repeat sales.
Types of Customer Loyalty 'Gamers'
Not every type of gamer — or consumer participating in a gamified loyalty program— is the same. Richard Bartle, the father of multiplayer online games, grouped gamers into four key groups to help better understand their actions and play style. The four groups of gamers include:
Achievers — those who are excited most about the points, the prizes, the awards, and other successes
Explorers — those who play the game to look for boundaries and discover new things
Socializers — those who just enjoy the fun casually, often interacting with others
Killers — the most competitive; for them, it's all about winning
Looking at the types of gamers, it makes sense that leaderboards tie in well with gamer segments and why they are an important part of gamification.
Who are leaderboards most effective with? Leaderboards may appeal to most of these gamers, but they will resonate most with the Achievers and Killers. You can drive greater loyalty engagement with your Achievers. Achievers are looking for successes, and aspects of your loyalty program like leaderboards and earning badges can give them an aspiration. You can also use gamification to drive improved retention with your Killers. These gamers will keep returning to your loyalty program to see if someone outranked them, and they'll do what it takes to regain their top position.
Best Practices for Loyalty Program Leaderboards
Leaderboards work best when rankings are attainable. Resetting scores regularly for certain metrics make sense, or even offering a variety of leader metrics that can be ranked. Imagine you have a leaderboard for your coffee shop that shows who has the most loyalty check-ins or other visits. If this were a lifetime score, no new customers could win and whoever was in the top ten would likely remain indefinitely. This would be much better as a weekly or monthly score, allowing for new names to surface on the leaderboard. You want members to feel they have the ability to make the list. If it is always out of reach, they will become disinterested and disengage.
Historical leaderboard rankings also make great personalization content for your member monthly account status communications. How awesome would a member feel to see they were in the top 10 percent of customers for that month or that they had the longest purchase streak?
Consider how you can use a leaderboard to keep your members excited about the ongoing activities they have. Whether you are a coffee shop or an auto parts store, if you're looking for ways to grow engagement or bump up your retention with some of your most passionate members even further, a leaderboard is a great start.
Loyalty Programs and Badges (Badgification)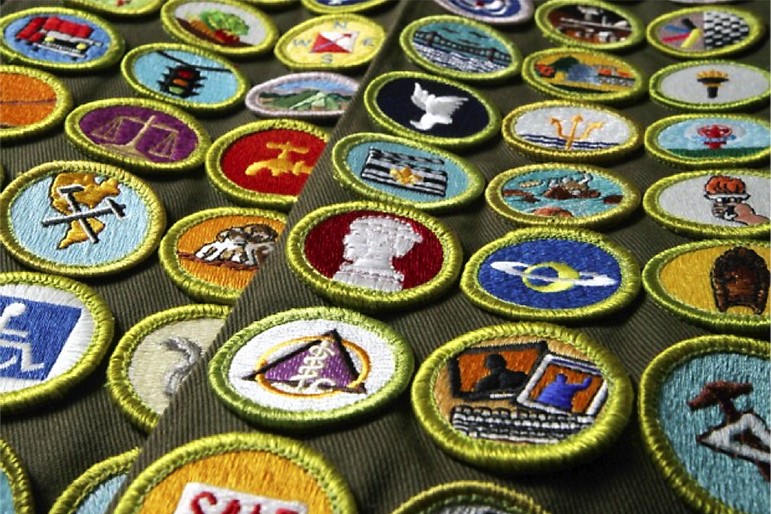 Let's look at another form of gamification to keep your loyalty members excited, with a little more longevity for impact: Badges (or badgification).
The idea of earning badges to motivate participation has been around a long time. The Boy Scouts started awarding their first 57 merit badges in 1911. Badges are a meaningful way to reward someone for activities, including some that may be outside of their normal comfort zone.
Looking back at Richard Bartle's gamer types, we can understand what kind of consumers will extract the most value from loyalty badgification. While it may be a no-brainer that Achievers would be excited to earn more prizes in the form of badges, it is also a significant opportunity for your Explorers. They want to do more, so this is an amazing opportunity to nurture that.
Brands can leverage badges to motivate loyalty members and can even personalize the experience with unique, targeted activities that get members out of their comfort zones. Incorporating badges into your consumer loyalty experience can provide countless opportunities, including having members try a variety of product lines or categories, making visits at a designated cadence within a certain timeframe, or even engaging with you in new channels. You can also award multiple badges or higher levels of the same badge for repeated activities. Rewarding these activities gets your brand the things you are looking for and gives members the recognition they are seeking.
Best Practices for Loyalty Program Badges
Just like leaderboards, badges can be reset or refreshed regularly to help drive activity. For example, Facebook's "Top Fan" badge is a temporary badge for members who have recently engaged at a high level, showing you the most brand loyalty. Facebook's algorithm continuously updates the badges to award them to new "Top Fans", motivating users continue engaging while offering the reward to a greater audience.
Larger badges that can reside in a member's profile or wallet for repeat are also valuable. This digital trophy case creates little souvenirs of the work they have done in the past. You want this array of badges to be attainable and meaningful, also with a variety of difficulties.
The Endowed Progress Effect shows that people will be more committed to continued effort to reach their goals if they feel they have made some progress. Offering members a few badges that are easy to earn, a few that are challenging, and a handful that require some long-term dedication will ensure you capture a broad range of engagement and members. Your Achievers will do what it takes to earn them all and your Explorers will branch out and endeavor to earn badges by exploring activities that are new to them. Even your Socializers will get excited as they interact and start to earn those easier initial badges.
Loyalty Programs and Game-Like Tutorials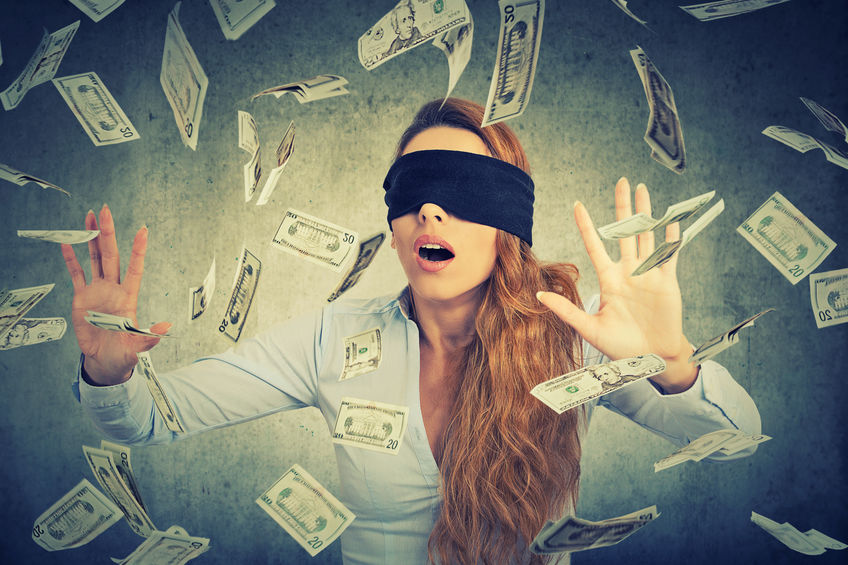 A useful loyalty gamification strategy is the program 'tutorial'. Every video game teaches the player how to play, whether using a tutorial, guide, or trial and error in a controlled environment. Game designers know that players will invest more time and money into the game if they guide the player at the beginning of the journey and ensure early successes. The same gamification tactic can be applied to loyalty programs.
Often, 30% to 60% of loyalty program members don't know how to 'play,' let alone 'win,' in their loyalty program. They don't know how the program works, where to check their progress toward earning a reward, how to redeem points, how to check when points expire, etc. All of these problems could be solved if those programs gave its members some instruction.
Improving stickiness, engagement, and retention requires teaching your new members how to play and win in your loyalty program. The best way is by incorporating a video-game-like tutorial for your loyalty program.
Best Practices for Loyalty Program Tutorials
Most games have a well-thought-out, intentional method of guiding new players through the basics of how to play the game. This structured tutorial is intended to show players how to progress, how to earn, and how to win the game. Compare that to most loyalty program's approach of only a welcome email, and you can quickly see that video games know the importance of the 'early game' better than many loyalty program developers.
If you guide, teach, and positively reinforce your member's progress during the 'honeymoon phase' of the loyalty relationship, from onboarding all the way to earning and redeeming their first reward, you will have created a happy customer with a sense of accomplishment. This creates emotional loyalty to your brand which has deeper roots than habitual transactional behavior.
To develop your loyalty program's 'tutorial', here are some best practices you can follow:
Map out the journey, from enrollment to first redemption.
Rework your communications based on the member's preferences to positively reinforce the steps or behaviors that get your members closer to earning that first reward.
Keep it simple, don't over-engineer it, and help your new members focus on their journey to first redemption.
Track activities including email and text open rates, visits to the members' profile page, store visits (with or without a purchase), the average time it takes to earn a reward, and more.
Continually optimize the onboarding experience based on the data you collect as well as direct feedback from members.
Creating a successful tutorial-like onboarding experience for your loyalty program will increase the likelihood of continued engagement and the overall success of your customer loyalty solution.
Examples of Loyalty Gamification
Several major companies and brands have incorporated gamification into their consumer and user experiences with great success. Below we are going to look at a few major companies and how they have leveraged gamification in innovative ways to increase activity, engagement, and brand loyalty.
Peloton Uses Leaderboards to Create Real Competition
Peloton has done an excellent job of creating a leaderboard experience that drives customer engagement. Each of Peloton's classes or rides has a unique leaderboard. These leaderboards show everyone else on the current ride, which can be narrowed down even further by those riding at that moment or those who have ever taken that class. Riders compete in real-time throughout the ride to move up and down the ranks. They are also shown their own previous best times for the same length of ride, so while they try to catch up with other gamers, they are also competing with their past self.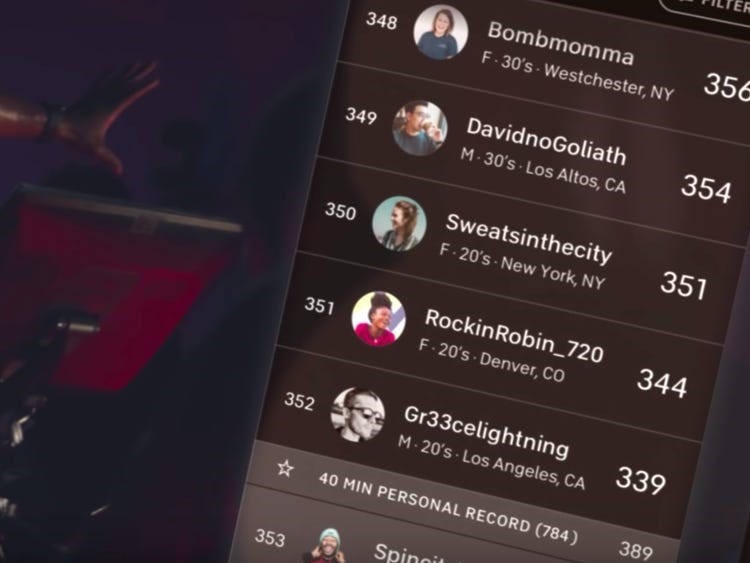 The ability to interact with the Peloton leaderboard by high-fiving others throughout the current ride list gives even further opportunity to engage groups like the Socializers. How well the leaderboards engage members is up to you and what you want to achieve.
Badges Drive Activity & Engagement on Facebook
Facebook successfully uses badges as a gamification tactic to drive activity, including some using small badges that appear on a member's posts. Of course, these badges are earned through increased activity and engagement on the social media platform.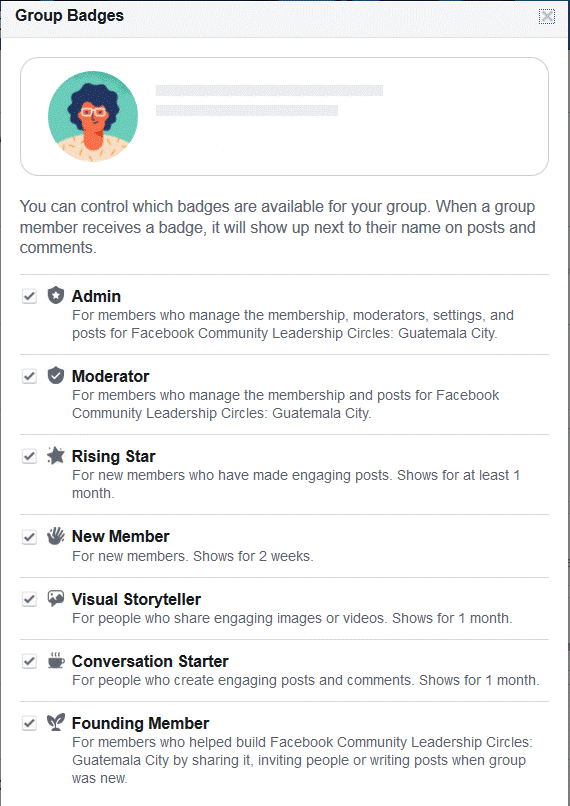 In Facebook groups, users can currently earn badges such as "New Member", "Conversation Starter", and "Rising Star". These badges appear next to the users' name when they post in the Facebook group. Users may feel more comfortable engaging when others know what they are known for and have in common. For example, your "Conversation Starters" will be more likely to continue making new conversations, and other group members might be a bit nicer to users with a "New Member" badge. And "Rising Stars" might work just a little harder to earn the next badge tier.
Apple Uses Gamification to Put Fun in Fitness
Apple has done a great job of including badgification (the gamified aspect of earning badges) through their Activity platform. Through Activity, Apple encourages users to earn badges as they travel through their fitness journey while also including challenges and special events to further motivate engagement.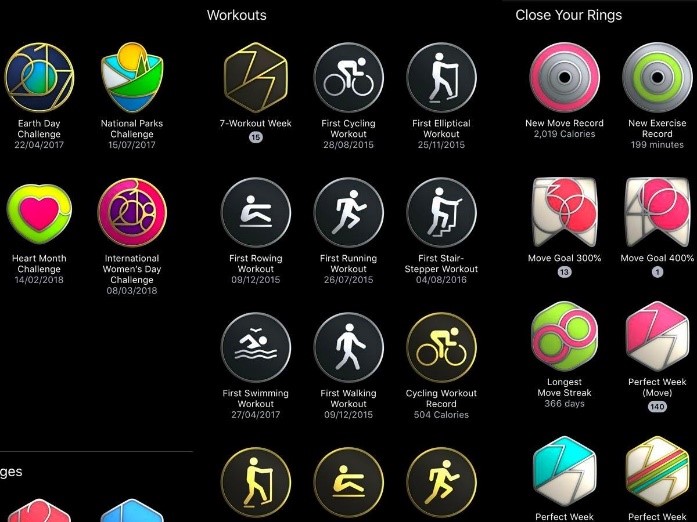 Setting a new personal record, like your fastest outdoor run or completing a calorie-burn goal for a week, can be an easy badge acquisition. Longer goals, like a perfect month of workouts or Apple's personalized monthly goals, help drive further activity over time. Way out in the distance are awards for achieving your goals like 500, 1000, and even 2000 days of exercise. Talk about retention! To keep it fresh, Apple layers on badges for special event challenges like the New Year challenge and Earth Day challenges.
Level Up Your Loyalty Program with Gamification
Loyalty program gamification isn't a new concept. Game mechanics like leaderboards and badges have been around for decades and used in a wide variety of ways, but it is relatively new in the world of marketing and customer loyalty. Do you want your company to join the other successful trailblazers using these innovations in loyalty?
At Brierley, we know the value of loyalty innovation and the success gamification can have as part of a customer loyalty solution. If you are ready to level up your company's loyalty program, reach out to us today. Our loyalty strategy experts can help you develop the right gamification solution for your loyalty program.