How to Increase B2B Loyalty Program Engagement
As much as a business will rely on its internal sales team to advance its commercial direction, many businesses utilise external channel partnerships to drive sales. Brands will commonly use a re-seller or distributor network to drive uplift in easy customer reach. This is a particularly way the automotive or travel industries sell products. Such organisations will often establish loyalty programs specifically to reward desired channel partner success and support the sustained thrust towards securing key business imperatives.
Partner loyalty is especially important where transactions are of high value and consumer buying frequency is less regular. The effect of missing out on sales can be acute, with failure to foster and develop robust relationships with those often closer to a brand's customers than the brand itself a real risk. Designing a loyalty program framework that mitigates such a risk is vital, and key considerations must be observed.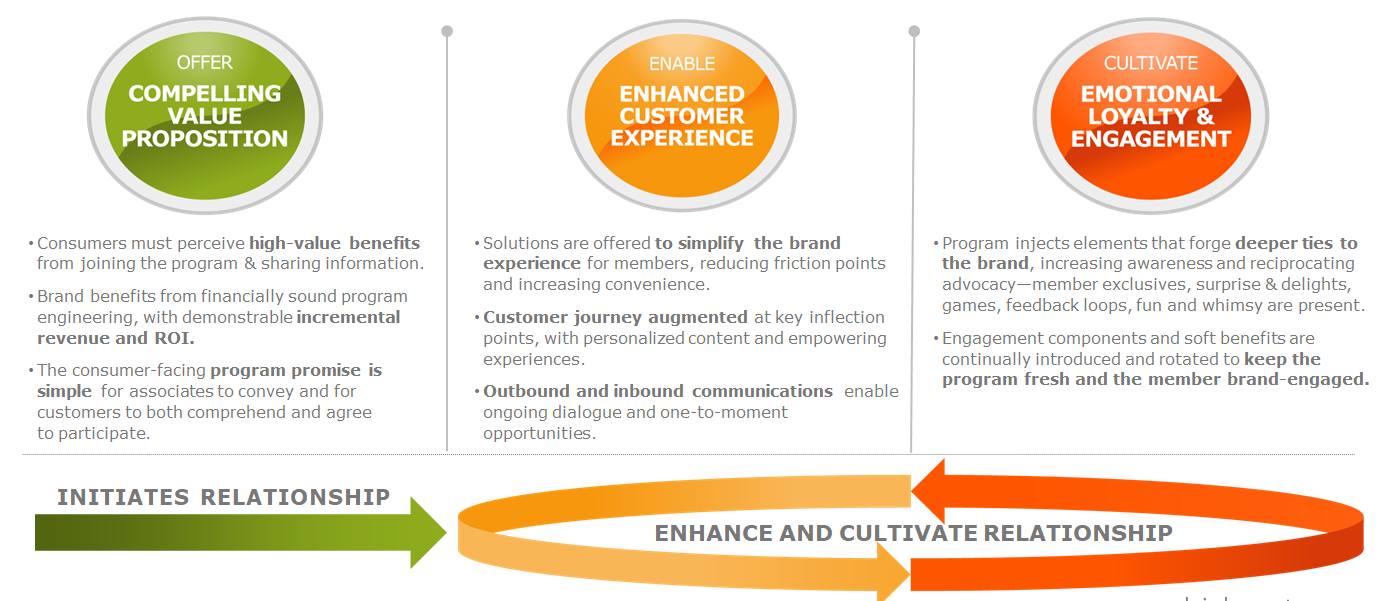 My colleague Randy Hernandez provides an excellent articulation of Brierley's approach to program design and the core principles that must underpin the development of an effective B2B program in his article headlined B2B or Not B2B Customer Loyalty? No Question. In addition, we must think carefully about the dynamic of the brand/re-seller relationship, why these relationships exist and what makes them flourish. Arguably, most noticeable gains are made when the reseller is empowered to influence the customer experience. The effectiveness of this approach is validated by measuring customer emotional connectivity to your brand.
Understand the Relationship
The very nature of utilising a channel partner network acknowledges that your business may be somewhat removed from the end user, whether on a daily basis or at considerably less regular intervals. It's important to recognise, therefore, that channel partners have a significant stake in the customer relationship – they are recommending and advocating for your brand where you may not be so readily connected. A brand's inability to ultimately deliver for the customer may also be a failure to deliver for the re-seller partner and prove equally as costly. This dynamic must, therefore, be understood, and the brand must acknowledge the common aim it shares with the re-seller.
Think Beyond Points
It stands to reason that when customer satisfaction and repeat business is at stake for both re-seller and brand a points-based reward system that may translate into cash might only achieve so much. For every agent and third party salesperson who will drive volume sales for the promise of easy points and catalogue redemption, there are other players who will be less engaged with such programs. They will likely be more focused, instead, on the delivery of customer experience and a heightened level of customer service to differentiate themselves from their competition. For this audience the program should address this need, one, fortunately, shared equally with the brand.
Program as Partnership Anchor
Given the mutual importance of the customer, brands should be willing to reward partners beyond the points by empowering them to elevate and augment the customer experience with the product or service. Consider the value in implementing a high-value or VIP-partner tier that gifts key re-sellers the flexibility to determine customer add-ons, ancillaries, upgrades, concierge services, or even service fast tracking alongside other surprise and delight experiences that may realistically be facilitated. The program might easily transcend the benefit of points alone (but not replace) and serve to inspire both elevated sales performance, improved customer service and experiences where retained and repeat business is the ultimate prize for all key stakeholders. As an aspirational facet of the program, the opportunity to offer an experience the immediate competition might not be able to match is compelling. Such an approach serves to tie the brand to the re-seller more closely and ensure the very best experience for the customer tying them in similarly.
Evaluating the Emotional Impact
Repeat business, improved customer and re-seller satisfaction notwithstanding measurable increase in profitability must be par for the program course. Here at Brierley + Partners, we recognise that a key component in achieving such an important harmonisation often rests in the understanding of the interplay between rational and emotional loyalty.
In evaluating the success of the approach outlined above we recommend forensic analysis of the customers brought to the table via any program VIP re-seller segment and viewed in particular through the prism of the customers' emotional connection to the brand. Where we see increased effort to maximize and differentiate the customer experience and service we see strong correlation with uplift in customer emotional connectivity and value and, through BLQ, our proprietary scoring methodology, we are able to quantify what this means for brands and enrich customer insight. Needless to say, this bodes extremely well for informing long-term program success and corresponding profitability.
Brierley + Partners offers a range of strategy and consumer insight modules that can help you in evaluating and enhancing your member acquisition and on-boarding efforts. Our Strategy and CI Teams can help with projects such as CX Journey Mapping, Competitor Evaluations, Communication Audits, Loyalty Ideation Workshops and more to ensure you maximize every opportunity to drive enrollments. To learn more, visit Brierley.com or contact us.
About Brierley
Brierley is the industry leader — transforming loyalty around the world. The company's focus is turning client challenges into successful and profitable loyalty programme solutions. Brierley brings together innovative thought leadership, unparalleled expertise, and advanced technologies to help brands win customers' hearts and minds.
Brierley's LoyaltyOnDemand® represents a powerful evolution in loyalty technology. This intuitive platform empowers everything a loyalty programme demands to engage customers across every channel and touchpoint. LoyaltyOnDemand is also continuously evolving with new features to keep programmes on the leading edge. In addition, Brierley offers the full breadth of services to drive unprecedented loyalty success: programme design, strategy, research, analytics, customer insights, creative, and digital solutions.
Experts you can count on. Solutions you can trust. Success you can measure.
Brierley is U.S.-based and is a wholly owned subsidiary of Nomura Research Institute, headquartered in Tokyo, Japan.