Five Ways to Streamline Your E-Commerce Marketing
POV by Renea Keish
Can We Just Change the Channel? Five Ways to Streamline your E-Commerce Channel
Are you satisfied with the return on your investment for each of your chosen marketing channels – or do you have a sinking feeling it could be better? If you work in marketing, you know that the pressure is always on to stretch those marketing budget dollars beyond belief – and it seems like it's never quite enough. From a macro perspective, we know that channel mix optimization considers both cost and return on investment per channel, which ultimately helps to guide a "balanced" (read: profitable) allocation of marketing budget across the individual channels.
Therefore, we need to take a step back and evaluate each channel we are utilizing. Smart optimization focuses on one channel at a time!

Note: In order to understand the true ROI per channel, it's important to have a grasp on how the company views sales attribution (ex. single-touch/multi-touch) in order to get a true read on which individual channels are delivering and prioritize those investments.

You Bought What?
As we move towards buying everything we want or need online, (Really? A Himalayan Salt Lamp and Bacon Flavored Floss?) then having it delivered preferably same day, and demanding the process be as painless, quick, and easy as possible, brands must be extra diligent with their e-commerce sites, as this marketing channel is critical "to get it right". If it's too cumbersome or time-consuming to find you, or if customers find it difficult to get the information they need to make the purchase, they will just move on. Typically, you get one chance for a successful conversion.

According to the Census Bureau, e-commerce sales have grown nearly 15% in the US from 2017 to 2018, with more than 60% of the population purchasing online - and the trend is expected to climb. Customers prefer the convenience and experience of shopping online, especially now with sites offering so many extra benefits, such as extended payment terms, extra discounts for spend thresholds, free shipping, surprise (and delight) gifts with purchase. For brands, there are no denying e-commerce's benefits of expanded geographical reach and customer accessibility, along with the potential for collecting valuable demographic information. It's important to invest the time to develop a frictionless digital user experience, which provides access to key information to enable a purchase decision. Mobile optimization should be considered table-stakes, with more than half of the online shoppers today utilizing smartphones or tablets; if there is a miss here—it's game over.
So what helps to create a seamless customer experience in e-commerce marketing?
-Enhanced page elements which help customers evaluate alternatives and increase conversion, such as videos, reviews, and product info/specs
-Rapid check-out process to minimize time spent finalizing payment and delivery. Ideally, allow members the ability to save payment/shipping preferences
-Personalized and relevant recommendations
-Live Support (online and toll-free)
-Leverage strong SEO keywords within product pages to increase awareness and promotion of your products/services through organic search
Here is an easy 5 step check-list that can help you assess the experience you are delivering to an e-commerce customer.
What's Under the Sheet?
An example of a well thought-out, engaging e-commerce site is Brooklinen.com, who designed an online experience with conversational qualities and dashes of pop culture sprinkled in. As outlined in Step 5, if you happen to pause for a minute on their site, a Support Agent chatbot is happy to facilitate your experience. Brooklinen's e-commerce site makes buying sheets and towels fun, with pop-up interstitials that actually make you laugh. They've done a great job with social media integration, and use engaging (instead of annoying) pop-up reminders to tempt you to make a purchase. As an e-commerce only business, they proudly feature their 30,000 5-star reviews, front and center of their landing page, which certainly speaks to the "trust factor" element needed to validate their e-commerce channel in the eyes of the customers, as mentioned in Step #1.
Game On…
One of our digitally savvy loyalty program clients, GameStop, has a very robust e-commerce site, connecting with their gamer demographic when and where they wish. As big believers of fusing the in-store and online experience, GameStop followed steps #1–#3 on the checklist, emphasizing personalized recommendations, detailed product information, videos for each product, customer reviews, social sharing capabilities, on an easy-to-navigate platform. GameStop realized that the online experience heavily influenced their in-store sales – as 26% of their e-commerce shoppers would also visit a store within 48 hours.


Let's Rope it in, please!
One of the most interesting e-commerce sites is a fitness product, Crossrope. They really hit the mark—capturing steps #1–#5 in the checklist. Using vibrant photography, videos, testimonials, reviews, pop-ups noting recent purchases, clear product info, popular recommendations, a free app with workout routines, customer service support, and the list goes on. The site uses animated product assembly and provides health tips on burning calories. The brand runs partnership campaigns with partners like USO and donates free ropes based on its online sales. The site is provocative and a good example of how sophisticated e-commerce can convert prospects. (I had to order one.)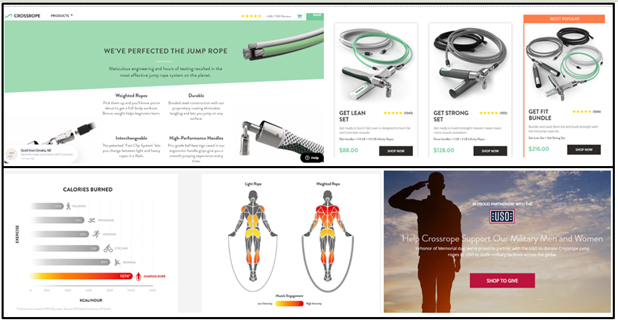 E-commerce is the New Norm for Consumer Shopping
E-commerce offers immense opportunity for brands to expand their reach and increase conversions. Developing the optimal e-commerce marketing channel will require strategic planning, in addition to ongoing monitoring and enhancements to ensure your brand connects with your customers in a meaningful, relevant way to maximize conversions. Taking the time to understand the customer journey on your e-commerce site, and adjusting for any gaps (refer to the checklist) will help to deliver the experience your customers expect - and the desired level of profitable interaction. Try to be proactive with ongoing integration of improved content and/or functionality to ensure customer retention and advocacy. It is also recommended that regular purchase funnel analysis be performed, to identify opportunities, make adjustments, and continuously improve the customer's digital experience to reduce (cart) abandonment, and increase conversion.

Like what you're reading? Find out more about Brierley+Partner's Digital Solutions.
Check out the rest of our series Can We Just Change the Channel? for more tips on optimizing your mobile, social media, and direct mail channels.