Capillary Technologies, Brierley's parent company, announces its acquisition of Tenerity's Digital Connect assets. This is Capillary's third acquisition in the United States in less than three years. This acquisition further advances Capillary's foothold in the North American and European markets and showcases our commitment to transforming customer loyalty and engagement solutions around the world.
Over the past year, Digital Connect has cultivated a formidable rewards network, with significant progress in the BFSI/telecom industry. This aligns perfectly with our combined offerings and will allow Brierley and Capillary to provide even more value to our clients. With the addition of Digital Connect — rebranded as Rewards+ — Brierley and Capillary will be able to offer a unified, comprehensive suite of state-of-the-art loyalty solutions.
Introducing Rewards+
Digital Connect will be rebranded Rewards+ and join Loyalty+, Engage+, and Insights+ as part of Intelligent Loyalty, Capillary's turnkey loyalty and engagement platform powered by Actionable AI.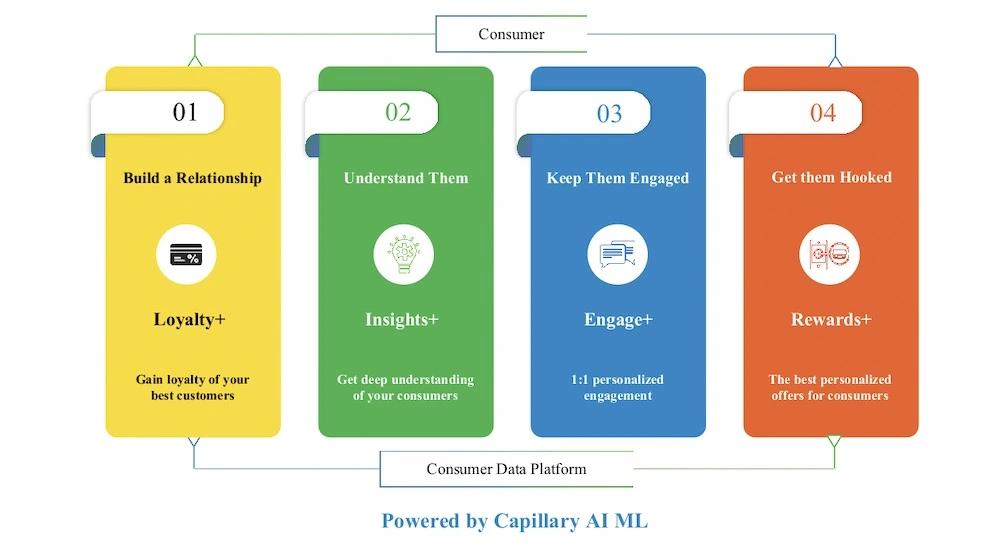 Rewards+ will introduce an enhanced rewards ecosystem into Capillary's current portfolio, offering more powerful solutions for our clients. With this addition, Capillary Technologies will become the only company to offer a full suite of end-to-end integrated intelligent loyalty solutions that includes, among others:
technology platform
consulting services
loyalty program design
data analytics
full rewards network
marketing communications
As an integral part of Capillary's platform, Rewards+ will bolster our ability to deliver the most comprehensive and innovative customer loyalty solutions possible.
New Talent and Global Expansion!
The Digital Connect team joining Capillary from Tenerity is located in the US, UK, and India, making great additions to our global family and extending Capillary's reach further into these regions.
Alongside Brierley and Persuade, the addition of Tenerity's Digital Connect team promises to further reinforce Brierley's reputation in North America and Europe and boost Capillary's robust international presence.
"The addition of Digital Connect's Rewards network solidifies Capillary as the unequivocal pinnacle of loyalty solutions," Sameer Garde, CEO of Capillary Technologies, said in the Capillary press release. Brierley is excited to be part of this journey by contributing our unparalleled industry expertise to this constantly evolving ecosystem.
Exciting New Phase for Brierley & Capillary
Aneesh Reddy, Founder and MD of Capillary Technologies, emphasized Capillary's global expansion is at full speed. "Digital Connect's specialized focus on the BFSI/telecom industry will accelerate our entry into a new vertical," Reddy said. As a key part of Capillary's global vision, Brierley is excited about the opportunities this expansion will provide for our clients and partners.
With Capillary's commitment to delivering real-time omnichannel, personalized, and consistent experiences for customers, Brierley's deep-rooted industry expertise, and Digital Connect's assets and Rewards network, the future of customer loyalty solutions looks brighter than ever.
To learn more, see the official press release or contact Brierley today!