2020: A Wrap-Up of the Year's Achievements
We are happy to announce that Brierley has been included as a Hybrid loyalty solution provider in the Q4 2020 edition of Forrester's Now Tech: Loyalty Marketing report. Forrester is the leading research company in the Loyalty space and as we continue to evolve our technology and services capabilities to address the broadest spectrum of loyalty requirements, from strategy to program management to loyalty measurement and analytics, it is an honor to be recognized for these efforts.
Forrester offers research and advice on existing and upcoming technologies for both the public and businesses and hundreds of thousands of companies turn to Forrester when exploring the competitive landscape on new technologies. Forrester also publishes a wide range of reports that analyze the impact of certain trends and technologies on various industry verticals. One of these reports is the Now Tech: Loyalty Marketing Report, which included Brierley in its Q4 2020 edition.
"We are pleased to continue being recognized in Forrester's loyalty reports as their partnership is very important to us. It's an exciting time in the world of Loyalty. It has become a increasingly important conversation in every business and we enjoy evolving alongside the changes we are seeing in customer loyalty." Kats Murakami, CEO at Brierley
Our Latest Achievements
2020 posed significant challenges, but Brierley's nimble start-up mindset and dedication to our clients' success has allowed us to quickly react to these challenges and strengthen our position in the marketplace. Loyalty programs have never been more important to businesses than they are now.
We built out the next generation of our loyalty platform to better assist companies in transforming their loyalty challenges into solutions. We engaged with the business community as thought leaders in the industry, hosting webinars, and developing content on customer loyalty even beyond the world of loyalty programs.
Next Gen Loyalty: LoyaltyOnDemand® KONA
True to our mission of Transforming Loyalty, over the course of the year, Brierley has completely evolved LoyaltyOnDemand®, our Loyalty Management Platform. LoyaltyOnDemand® KONA is still the best loyalty platform in the market and now it's also the most powerful and easy to use. Here's how:
We've designed the platform you can't outgrow. Whether you're looking for an easily configurable loyalty program or a highly customized one, LoyaltyOnDemand® KONA can do it all.
Program management has never been easier. A brand-new user interface makes configuring a loyalty program and promotions quick and easy and our insights and analytics tools are now integrated with the platform to maximize value for the Power Campaign User as well as the Marketer.
With businesses seeing astronomical increases in eCommerce and a global audience, businesses are developing global loyalty needs. LoyaltyOnDemand® KONA can help businesses multiple loyalty programs for their multiple brands in any part of the world.
Brierley has 35+ years of proven loyalty success. Our services arm remains one of our strongest differentiators in the marketplace and it's a key component in empowering our clients' success.
Check out our website to learn more about our technology and service offerings.
Thought Leadership
Our clients leaned on us now more than ever to leverage customer loyalty during the pandemic. We saw that many of the questions and concerns we were hearing from clients were reflected in the public discourse, so we decided to engage with the business community to provide guidance and expertise in navigating the pandemic.
So far in 2020, we have written 14 articles analyzing the challenges and best loyalty practices for several verticals, including food & beverage, restaurant, c-store, entertainment, and B2B loyalty.
Amidst the pandemic, Brierley held several webinars focused on helping businesses K.E.E.P. Your Customers Happy and P.L.A.N. Your Next Move as well as several joint webinars with companies such as Adweek, Valimail, TGI Fridays, Lego, American Eagle Outfitters, and more to help CRM executives and marketers better understand the field of loyalty and email marketing best practices.
During the summer, we shared our Top Suggestions from Top 10 Leaders in Customer Loyalty as part of Loyalty360's Top 10 Leaders Series, touching on our predictions on Loyalty in 2025, how to show authenticity and empathy during difficult times.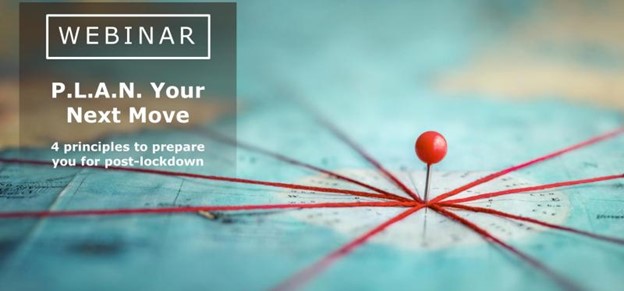 Our webinar on how to prepare your company for a post-lockdown rebound walks you through case studies on how the P.L.A.N. approach can work for you. Watch it now!
Continuing to Perfect our Loyalty Technology
Inclusion in the Forrester's Now Tech: Loyalty Marketing, Q4 2020 report reinforces that we're on the right track. We'll keep evolving our existing capabilities while also introducing new innovations. If you're interested in learning more about the sophisticated solutions Brierley has to offer, feel free to include us in your RFP or book a demo.