Blog Post: Mind the GAAP - Part 3: Mitigation Strategies & Best Practices
By Randy Hernandez, Senior Director, Strategy
As we've highlighted in Part 1 and Part 2 of this 3 part Mind the GAAP series, beginning in 2018, changes in accounting for structured loyalty programs (i.e. points, miles, stars, etc.) may have significant potential impacts on your company's financial performance. If you missed those earlier installments, we encourage you to take a few minutes to skim through them. For those who want the quick summary, new accounting rules went into effect in 2018, requiring all US companies to change their accounting for structured loyalty programs to defer a portion of current sales to the loyalty currency and recognize revenue only upon points/currency redemption (for rewards) or expiration (breakage). With many programs, this resulted in a short-term reduction in revenue recognition and increase in program liability (deferred revenue). In this final installment, we'll share some best-in-class strategies and tactics to maximize loyalty program results in this new era, based on Brierley+Partners overall design philosophy and approach.
Strong Programs Follow Core Principles
Regardless of the accounting rules in place, successful loyalty offerings deliver in 3 critical ways: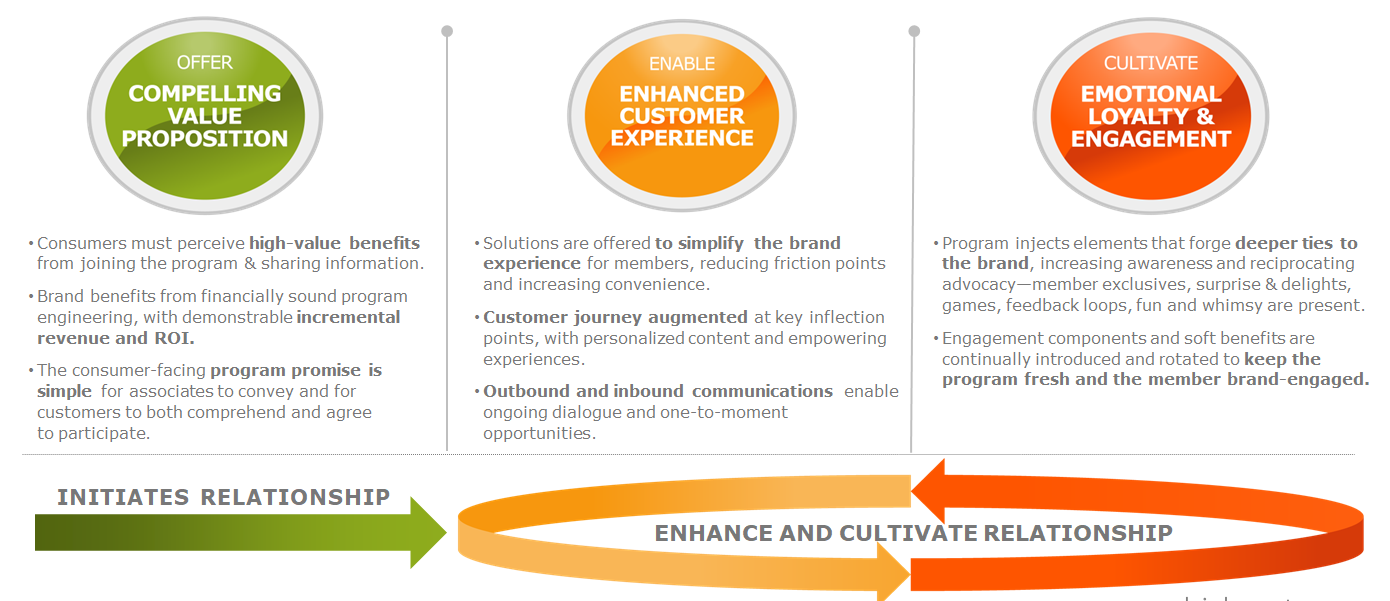 Six Strategies to Maximize Loyalty Program Performance
Leveraging our 3 core principles of successful loyalty programs, Brierley highlights 6 strategies to maximize customer engagement and your program's bottom line contribution:

1. Auto-Issued Rewards to drive engagement and leverage digital technology: Rewards are automatically issues at pre-determined threshold levels to minimize banking of points and spoilage. Some examples: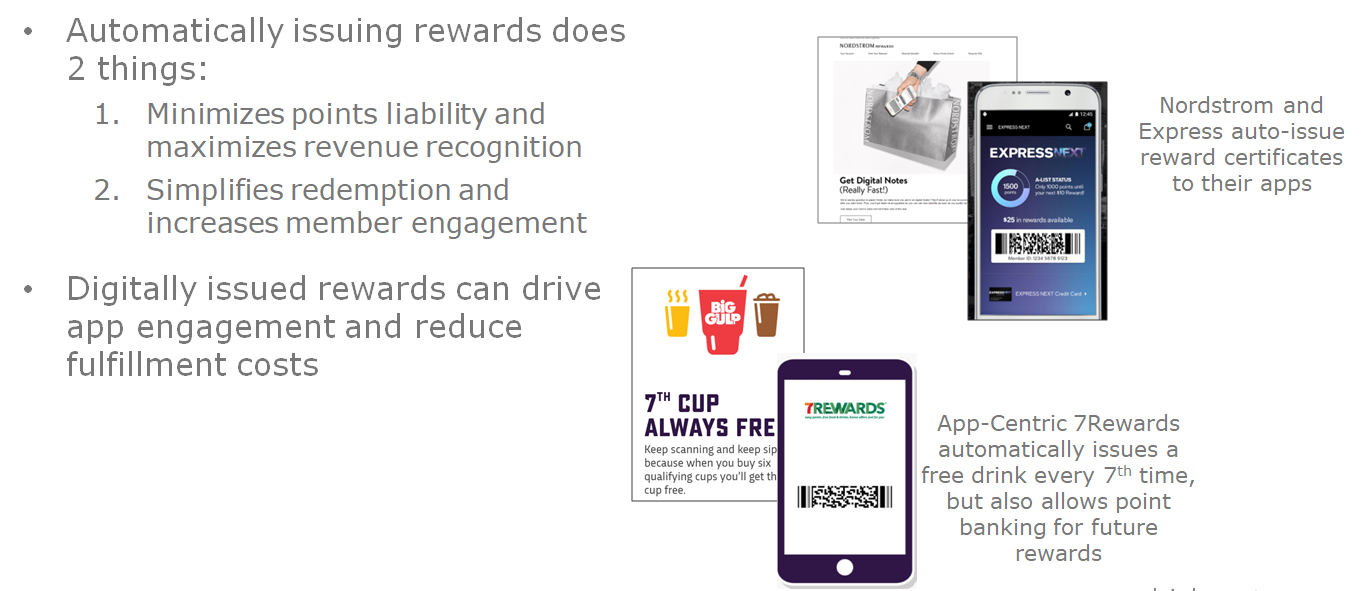 GameStop's PowerUp Rewards limits point banking to Elite customers
• Base (Player) level member $5 rewards are issued automatically at 5K points ($500 spend)
• Only Pro paid tier members can choose to bank points toward greater reward options.
Consider Impact of Reward Choice: Though members frequently rate programs that allow reward choice more highly, carefully consider and model the potential impact of choice in banking points, incremental liability and timing of revenue. Multiple behavioral economics and psychology studies have shown that choice overload can result in choice avoidance or deferral.1 Members may default to banking points if overwhelmed by choices, and/or the rewards are not compelling enough at lower point levels. Some examples of programs that manage choice well:
Kellogg's Family Rewards members can redeem points for exclusive coupons, branded merchandise, toys, products, recipe books and sweepstakes for as little as 5 points. Periodically, the program features "point sales" with deeply discounted reward redemption opportunities on select items.
Chick-fil-A One members can select from a limited number of items at each reward threshold, starting at 150 points ($15 spend) with greater value rewards available for greater spend levels (up to 1500 points).
1Iyenger, S. & Lepper, M. (2000). "When choice is demotivating: Can one desire too much of a good thing?" Journal of Personality & Social Psychology.
2. Consider reducing expiration to drive urgency: Most programs require some level of activity within a specified period to retain points. In determining what actions, if any, are available to extend the life of the currency, consider the member's investment in time and spend to achieve a reward, incentives to bank points, and the value of the underlying reward options. Leverage analytics to determine the optimal policy.
For example, programs which encourage banking over multiple years toward major rewards like AAdvantage have fairly liberal expiration policies. Points expire only after 18 months of inactivity (no earn or redemptions).
Similarly, 7Rewards points and beverage punches expire after no earn activity in 12 months.
Other programs expire points on a FIFO basis, regardless of subsequent activity, to accelerate redemption.
Ultamate Rewards points expire the end of the quarter following 12 month anniversary of date points were earned. For example, points earned 11/1/18 expire 12/31/19
Starbucks Rewards points expire 6 months after the calendar month in which they are earned
3. Accelerated Earn & Redemption Windows to Drive Engagement: Reduce the time allowed to earn a reward and/or redeem it.
Harvey Nichols Rewards members earn in one quarter and redeem their choice of reward in following quarter (product, discount, or experience)
Kohl's Rewards typically expire within 30 days of issuance. Kohl's cash expires within 7-14 days.
Panera Bread rewards expire within 30 to 60 days of issuance
Regardless of the tactic, some best practices Brierley encourages with its clients include:

4. Program Design – No Currency: Increase engagement and loyalty without a formal earn and redeem structured program. These programs typically offer member exclusive offers, access and benefits:
IKEA Family members get monthly exclusive product discounts, 90 day price protection, free coffee or tea, and other enhanced in-store experiences.

P&G Everyday and Coke Rewards members get exclusive offers, access to exclusive events, sweepstakes and insider access
KORSVIP members earn points solely to unlock elite tiers with progressively richer and more exclusive experiential benefits and services including private in-store events and access to special MK products and VIP experiences.
5. Leverage highly targeted earn and redemption offers to maximize engagement. In addition to employing standard lifecycle communications including expiration and tier threshold reminders, many leading programs leverage additional personalized campaigns.
AAdvantage targets mileage purchase and bonus mile promotions to drive accrual stretch and redemptions
DSW Rewards drives members to stores with "top-off" incentives (issuing reward to members who are close to next reward) and reminders
Kellogg's Family Rewards targets members with expiring points with simple and fun re-engagement offers: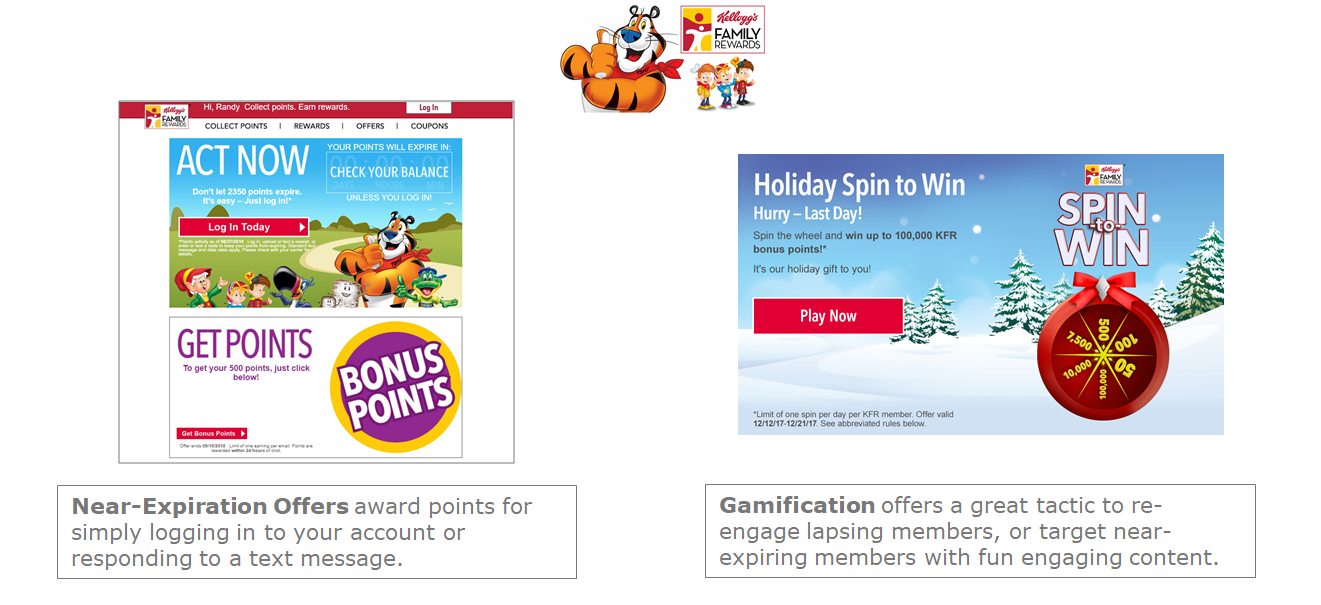 Starbucks Rewards drives Star accrual and redemption with personalized multi-purchase/product challenges. The challenges get tougher as engagement increases.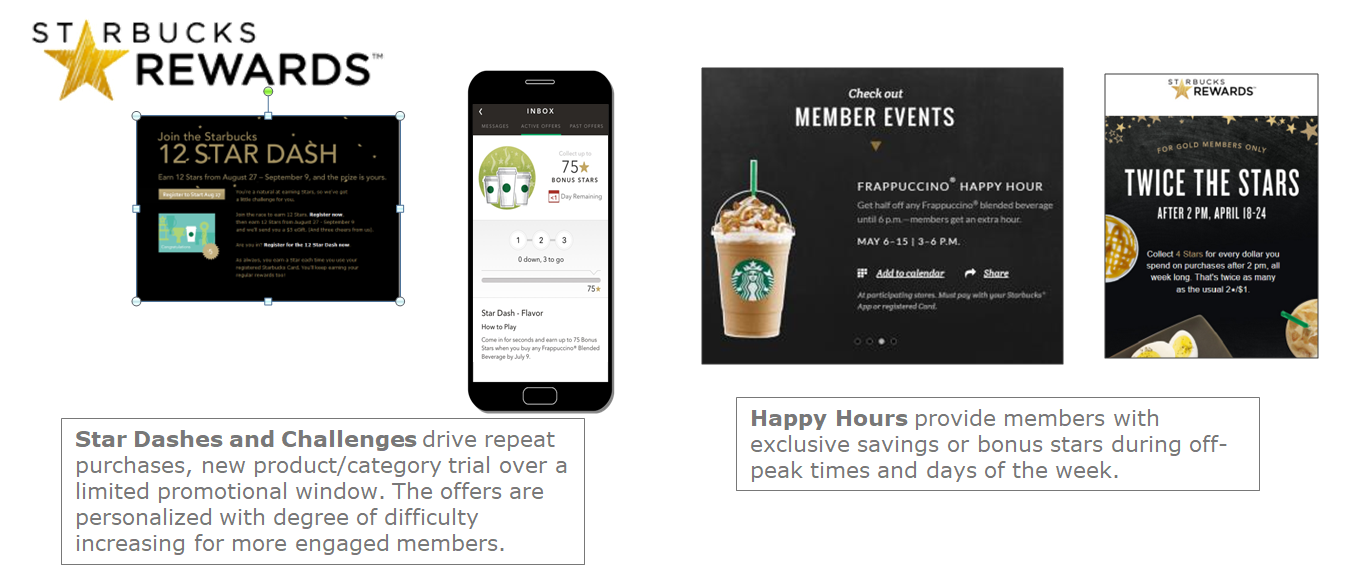 6. Drive Engagement with Exclusive or Limited Time Redemption Options: Leading programs generate excitement and drive engagement with targeted campaigns to encourage major point redemptions. When done right, these offers feature unique, experiential opportunities that reinforce the exclusivity of the brand and program membership:
AAdvantage targets members with significant mileage with opportunities to redeem points for Elite member upgrades and Admiral's Club memberships.
Hertz targeted elite members and members with substantial points with exclusive redemption opportunities like elite status upgrades, Porsche Driving School, tickets to major sports events and other "money can't buy experiences":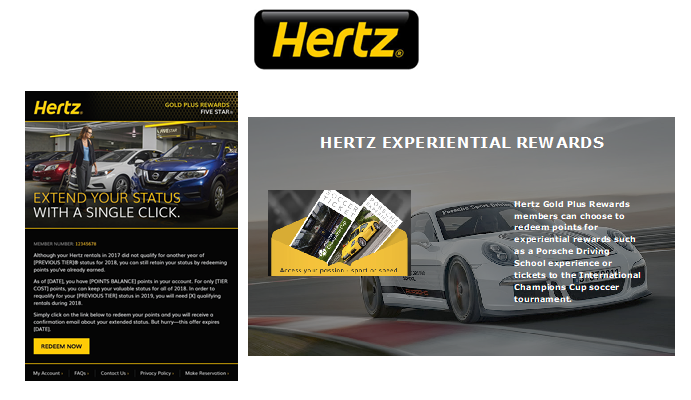 Hilton Honors targets high value members with unique reward options including VIP travel packages and tours.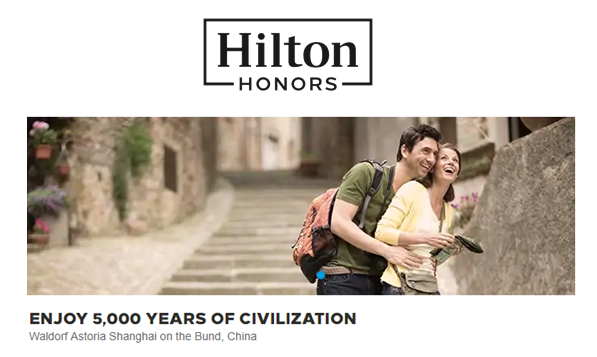 United MileagePlus extends ongoing unique redemption options for select members. MileagePlus Premier® and Chase co-brand card members enjoy greater access to seat reward inventory.

Auctions provide members with unique experiential and/or savings opportunities: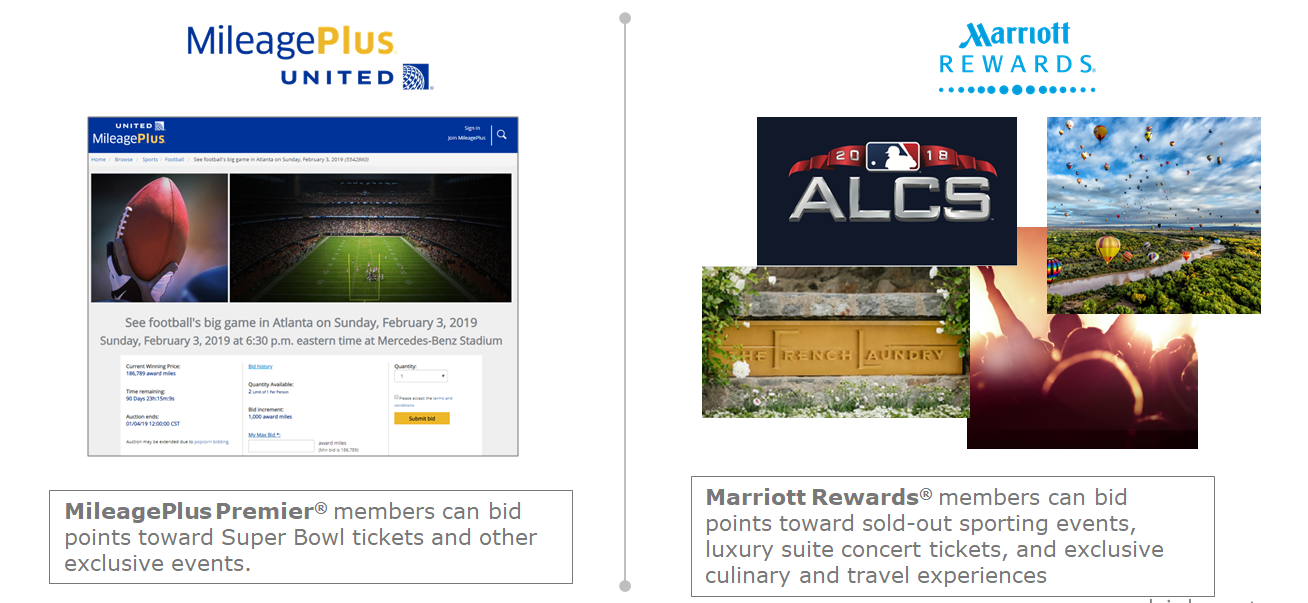 Summary
Although the accounting rules for structured loyalty programs has changed beginning in 2018, the core tenets underlying any good loyalty solution have not. Your organization may need to update its reporting and analytics to better estimate critical areas of program performance such as redemption forecasting and loyalty currency valuation, but by following the sample reporting, disclosure and program design and promotion best practices Brierley has outlined briefly in this 3 part series, you'll be well ahead of the curve. And, if you'd like to learn how Brierley can help you to maximize your loyalty initiatives investment, we'd welcome the opportunity to explore our capabilities with you further. Until then, remember to Mind the GAAP!