Blog Post: Mind the GAAP Part 2: Leading Program Financials Examples
By Randy Hernandez, Senior Director, Strategy
Congratulations! If you've read through Part 1 of our 3-part series, you've gained an appreciation for the potential impacts the new "deferred revenue" accounting rules could have on your loyalty program's financial performance. Your finance team loves you now, and has a deep, profound respect for any and all of your initiatives. Well, maybe not, but if you missed Part 1, we encourage you to give it a quick read. For those who want the quick summary, new accounting rules went into effect in 2018, requiring all US companies to change their accounting for structured loyalty programs (i.e. points, miles, and other currencies) to defer a portion of current sales to the loyalty currency and recognize revenue upon points/currency redemption (for rewards) or expiration (breakage). With many programs, this results in a short-term reduction in revenue recognition and increase in program liability (deferred revenue). In Part 2, we'll highlight some examples of how these accounting changes are impacting several leading programs' financial statements. And last but not least, in Part 3, we'll share some best-in-class strategies and tactics to maximize loyalty program results in this new era.
Reporting Best Practices from Leading Programs
To see the "real life" implications of these accounting changes, we've highlighted the financial impacts from 4 leading loyalty programs from publicly available SEC documents. The programs provide a diverse overview as to the impacts and alternative methods companies have used to comply with the new accounting rules for loyalty programs.
Illustrative Example 1: American Airlines AAdvantage (per 1Q2018 Form 10Q)
American's AAdvantage program features a substantial partner marketing component, so it views its program in 2 dimensions:
Mileage Earned Through Travel: Miles earned on AA flights is valued at the "equivalent ticket value" leveraging multiple historical data inputs including:
-Award redemption patterns by geographic region, class of service, and member level
-Similar fares used for award travel redemptions
-Estimated refunds and exchanges (impacted by changes in revenue mgmt. strategies)
-Reward redemption mix (i.e. class of service, upgrades, plan-ahead vs. anytime, etc.)
-Changes or planned changes in reward inventory availability
-Changes in program (i.e. addition of new elite tiers, benefits, etc.)
-Mile Breakage based on historical experience and updated at least annually
-Allocation between current (i.e. within 12 months) and long-term liability based on historical data, seasonality, and "actuarial models"
Miles Sold to Partners (co-branded cards and others): The bulk of AAdvantage revenue comes from co-branded card agreements with banks which have 2 major components:
Transportation: A portion of the contracted rate/mile sold is recognized as revenue with each member card transaction, with the remainder deferred and recognized when flown (redeemed) using same methodology in #1 above.
Marketing: American allocates a significant portion of the consideration received as marketing fees paid for access to Intellectual Property – including member data, and advertising as opposed to directly for transportation. This allows them to recognize a considerable portion of revenue earned under these agreements as points are earned using alternative accounting treatment (sales-based royalty method), and to defer the remaining portion attributable to transportation. For example in 1Q18, $570 million was recognized as marketing services revenue (5% of total operating revenue); $850 million for travel revenue (8% of revenue).

AAdvantage effectively manages program and member performance through multiple highly targeted and engaging offers: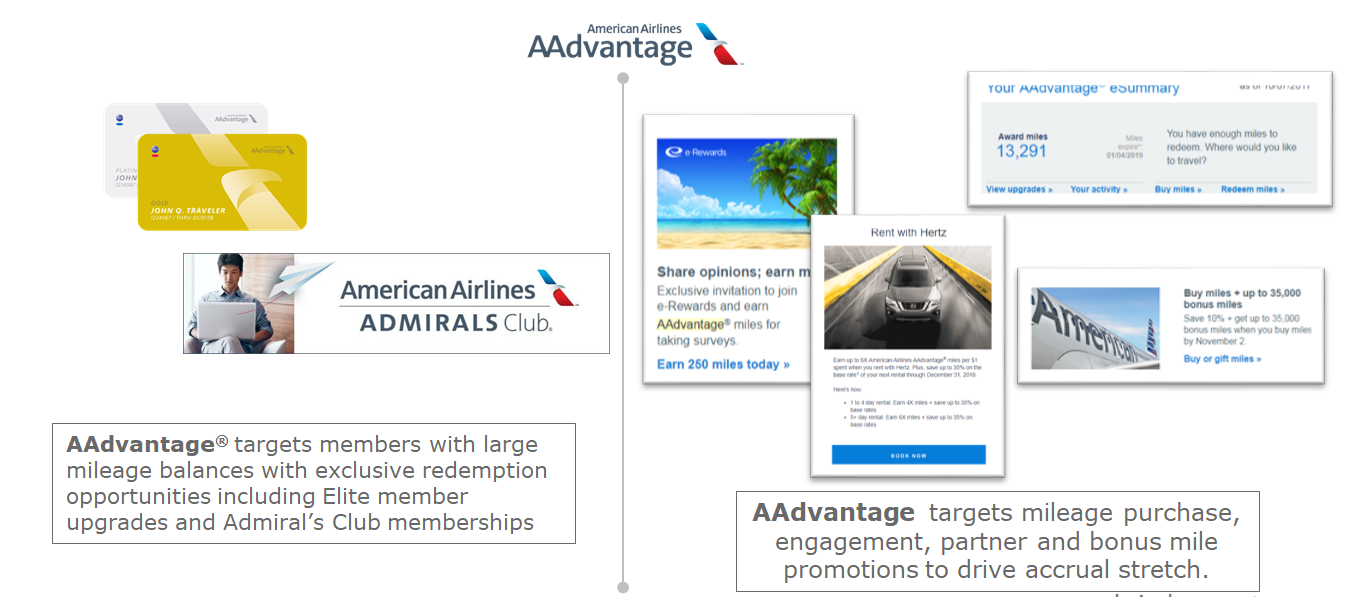 Illustrative Example #2 – Marriott Rewards (per 1Q2018 Form 10Q)
Marriott similarly adopted the deferred revenue approach in 1Q18. Marriott also has a substantial co-brand credit card component, but operates its Marriott Rewards program as a cross-brand marketing program to participating properties due to its significant franchisee ownership structure. Under this structure, properties (whether owned, franchised, managed, or leased) reimburse Marriott for a portion of the program's cost every month. Revenue is recognized as rewards are redeemed and/or points expire. Revenue (and liability) is based on multiple estimates:
-Breakage for points members never redeem – based on historical experience and expectations of future member behavior.
-Estimation requires "significant judgments based on generally accepted valuation methodologies re: value of our licensed IP, # of points earned, free night certificates issued and redeemed, breakage, and future member behavior."
-Estimated standalone selling prices based on value of hotel stay, property class, member level, and value of underlying other products/services redeemed (and relative historical redemption metrics)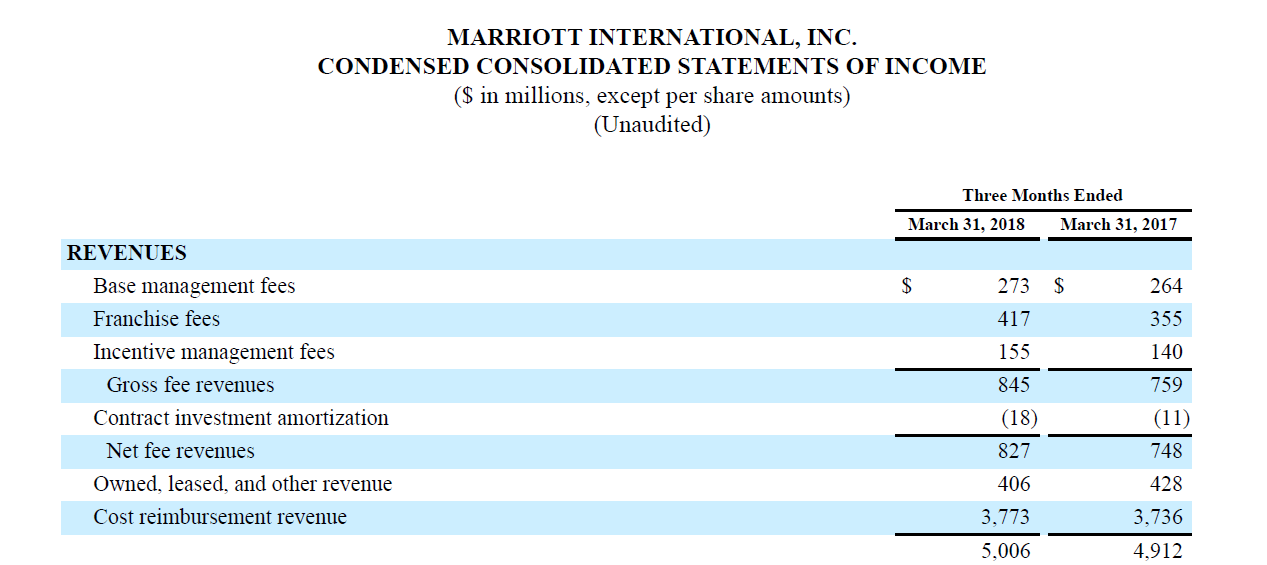 Illustrative Example #3 – Southwest Airlines Rapid Rewards (per 1Q2018 Form 10Q)
Southwest provides more elaboration as to its methodology and the impacts of the accounting change in its financial statements. Similar to American Airlines, Rapid Rewards features a significant credit card partner component; however, its point value is more transparent to members and available without restrictions.
Southwest was unique among major US companies reviewed in providing more insight into the impact of its loyalty program on revenues (~11% of total passenger revenue):

Southwest analyzes its program across 2 broad segments:
Business Partner Activity: Points earned from business partners are valued based on contractual rate paid to Southwest for points to be awarded to the business partners' customers. The underlying flight points are recognized when the customer redeems for travel.
-Points redeemed for goods and services other than travel are estimated based on historical redemption and values. Revenue is recognized when the good/service is delivered to the customer.
-Co-Branded Credit Cards revenue and points are managed similar to American Airlines' approach
Flight Activity: Points earned from flight activity are valued at their relative standalone selling price by applying fair value based on historical base fares and redemption patterns.
Southwest's site allows customers to toggle between fares using cash or points to approximate the "value" of each point at redemption, but can differ based on multiple factors that can impact estimate:
-Time between booking and flight
-Fare mix and classes
-Pricing changes and responses to competitors
Spoilage: "The Company utilizes historical behavioral data to develop a predictive statistical model to analyze the amount of spoilage expected for points earned through flight and sold to business partners."
Southwest evaluates spoilage "at least annually" and adjusts in the 4th quarter. Southwest acknowledges that in most historical periods, the impact of changes in spoilage rate is immaterial; HOWEVER:
"… due to the size of the Company's liability for frequent flyer benefits as a result of the elimination of the incremental cost method of accounting for flight points, changes in Customer behavior and/or expected future redemption patterns could result in more significant variations in Passenger revenue under the New Revenue Standard"
Illustrative Example #4 – Ultamate Rewards/Ulta Beauty, Inc. (2Q2018 Form 10Q)
Ulta's Ultamate Rewards is a highly regarded points-based retailer loyalty program. In February 2018, Ulta changed its accounting for revenue recognition under its loyalty program, credit card programs, gift cards, sales refunds and e-commerce.

Ulta notes that standalone price is estimated based on numerous factors: "…The standalone selling price of the Ultamate Rewards points awarded is not directly observable and as such that amount must be estimated. The Company utilizes the expected retail value to account for Ultamate Rewards points earned and considers the expected redemption rate as part of that calculation. The estimated redemption rate is based on historical experience and other assumptions. The estimates are evaluated on an on-going basis. The Company does not believe there is a reasonable likelihood there will be a material change in the future estimates or assumptions used to calculate the redemption rates."
Interestingly, Ulta combines the total impact of these accounting changes by disclosing the change in its overall deferred revenue liability account so it isn't easy to determine Ultamate Rewards impact on revenues or overall liability.
For example, the decrease in deferred revenue liability would at most, be $193.1 million in revenue recognized on Ulta Rewards redemptions/breakage (6% of net sales). The actual contribution is lower as this amount also includes gift card utilization/breakage, sales refund and other deferred revenue impacts.
Ulta keeps its Ultamate Rewards top of mind in its members' minds through design and by integration with overall marketing efforts: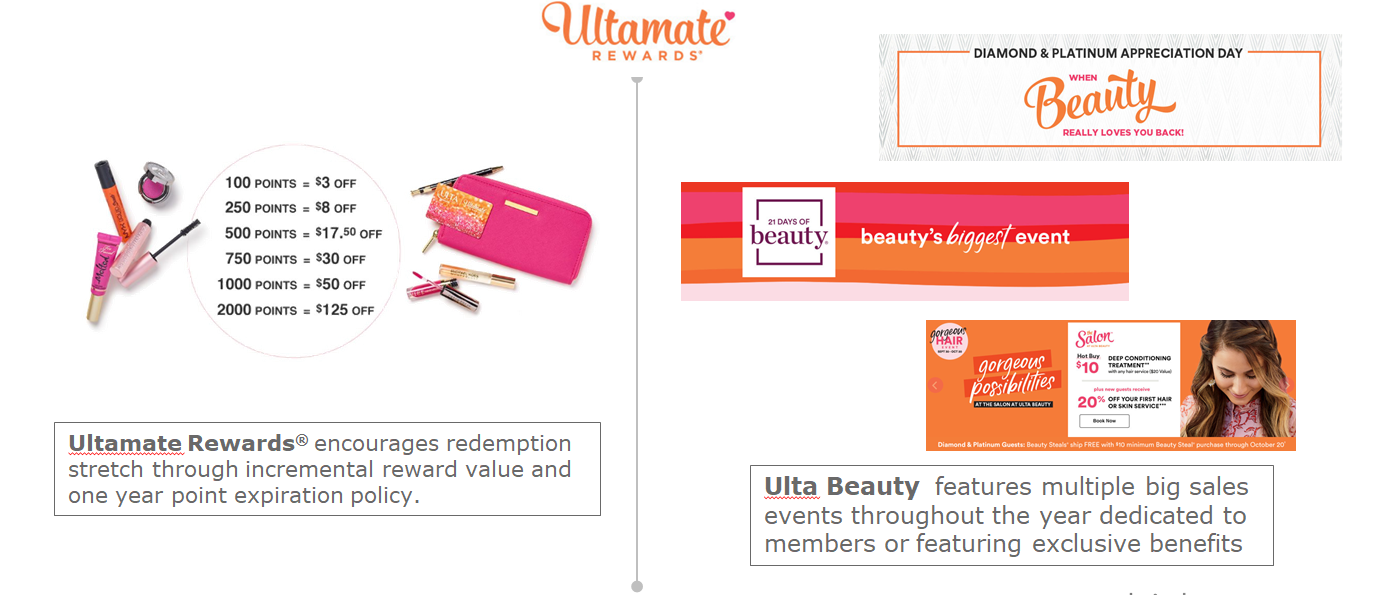 Summary
Now you've got a good sense as to the new rules impacts on some leading programs, and a brief taste of some tactics a few have used to maximize member engagement and loyalty program financial performance. In our final installment of Mind the GAAP, we'll dive deeper into some best in class examples to further maximize your loyalty program's financial contribution and impact!