Brierley LoyaltyWare
®
The powerful, fast, and flexible solution for loyalty and CRM, with an unmatched suite of capabilities.
Speed & Power That Mean Business

Creating a strategically sound loyalty and CRM program is truly only half the battle. You also need to get that program deployed quickly, effectively, and accurately, so it can live up to its full potential as a sales-driving initiative. Brierley LoyaltyWare® was purpose-built to solve this problem. With LoyaltyWare, you have the speed and dexterity of an out-of-the-box solution, with the full marketing capabilities and analytics of a customized solution. Don't sacrifice power, speed, or flexibility when you could have it all with Brierley's own LoyaltyWare solution.

Customer Tracking & Profiling

The easy and seamless integration of loyalty program enrollment from any customer channel (mobile app, in-store POS, kiosk, responsive website) automatically enters customers into the Brierley LoyaltyWare® system. From there, they are expertly profiled and tracked in terms of criteria related to both purchase behavior and non-purchase behavior from all digital channels. This allows us to craft perfectly-targeted promotions and loyalty program messaging to segmented lists of customers and continue to track profiled customers and attribute sales directly to the loyalty program. This level of customer segmentation and transparency is part of what sets LoyaltyWare apart.

Social Engagement Capabilities

In the modern marketplace, true brand perception is built and proven on the battlefields of social media. In response to this, Brierley LoyaltyWare® makes it possible for brands to reward their loyal customers with points, coupons, or other rewards for posting positively to a multitude of social channels by tracking a loyalty member's social influences with positive brand mentions or targeted keywords. LoyaltyWare gives the power of word-of-mouth marketing to the brand itself and helps to create loyal brand advocates in the marketplace.

Mobile Loyalty & CRM Applications

Modern loyalty program interactions occur largely on mobile, yet many brands have little-to-no mobile presence with their loyalty strategies. With Brierley LoyaltyWare®, you have a comprehensive list of functionality built into your mobile app integration for real-time, Brierley API-powered loyalty interactions that also integrate with Apple Wallet and Google Wallet. This way, loyalty members have quick and easy access to their loyalty account standing, and can redeem coupons/promotions with the mobile ease they've come to expect.

And if you don't have a mobile application, Brierley can build one for you.

CRM & Loyalty Analytics

The robust reporting features of Brierley LoyaltyWare® are built with a profitability focus, which means we make it simple to hone in on the key performance indicators of your loyalty program and marketing strategy in order to measure what works, and improve what doesn't. By utilizing a combination of highly-accurate and interactive executive dashboards and standard reports configured to suit your unique business needs, we ensure that every touchpoint of your program has complete transparency in order to improve any and all program weaknesses and best take advantage of program strengths. These strong program and strategy health checks are powered by both IBM Cognos and Tableau business intelligence tools.
Additional Features
Loyalty Program Website and eCommerce Integration

Customer-Centric Data Warehouse and Loyalty Schema

High-Performance Online Transaction Processing (OLTP) Loyalty Database

All Features of Brierley CampaignWare®, Brierley Digital Messaging Suite™, Brierley SurveyWare™, and Brierley Data Services
Fully Hosted in Secure Co-Location Data Center or Cloud-based Options

Online and Offline Reward Redemption Options

Customer Service Portal
DALLAS, GLOBAL HEADQUARTERS
5465 Legacy Drive Suite 300 Plano, TX 75024
214.760.8700
a Division of Nomura Research Institute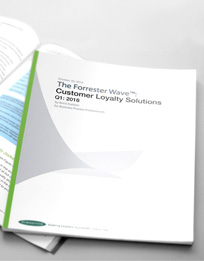 Brierley+Partners Named a Leader in Loyalty
The Forrester Wave™: Customer Loyalty Solutions for Large Organizations, Q1 2016
download the report