Brierley LoyaltyOnDemand
™
Powerful Loyalty Solutions for Growing Businesses
Jumpstart Your Loyalty

As a growing business, the need to automate your loyalty solution has never been higher. At the same time, it can be hard to justify the cost that a totally custom solution would represent to your business. That's where LoyaltyOnDemand® comes in. By providing fast-to-market pre-configured solutions, which can be easily skinned with your branding, you can start reaching your loyalty population quickly with a mobile-first approach. Brierley's professional team partners with you to get the solution up and running, and you'll be empowered to jumpstart your loyalty programs.

Three Great Program Options

Your cost-effective, pre-configured LoyaltyOnDemand® solution begins at one of three starting points. Each member of this trio is extremely effective, and born out of Brierley's decades of experience engaging millions through loyalty programs. They are:

Punches
Increments a punch for purchase of a specific product or category, and issues a reward upon hitting a punch threshold. This is a mobile digital version of the classic in-store punch cards that we've all carried in our wallets or purses.

Points
Points are calculated as a multiplier on qualifying purchases or spend amounts. Then, the rewards are issued upon reaching a predetermined point threshold. Compared to punches, this is based more on dollars spent than number of purchases.

Visits
This program option is based on geo-validation. Visits are earned from check-ins via the mobile application. Upon hitting a predetermined visit threshold, the reward is awarded. Whereas punches and points are based on a purchase criteria, "Visits" is based solely upon how often a patron visits your establishment. This is especially useful for restaurants & bars.

User-Friendly, Feature
Packed API

Despite the pre-configured nature of LoyaltyOnDemand®, the loyalty API doesn't skimp on features. Brierley's Loyalty API masterfully takes care of all phases of the loyalty journey. Enrollment is taken care of through mobile or online enrollment, as well as POS enrollment. In terms of tracking, it handles mobile wallets, sales transactions, mobile activity, and store check-ins. For accrual, we track either punches, points, or visits, as well as handle expression-based-business rules, and flexible promotions. Lastly, the loyalty API awards rewards based on triggered events, digital fulfillment, single use codes, and social sharing. From front to back, there isn't anything more a growing business needs from a loyalty API. We've trimmed the fat and given you the power.

A Mobile Customer Experience

In this day & age, your customers don't just want you to be mobile-first, they actually expect it. In response to this market shift, LoyaltyOnDemand® is mobile-first by design. From program enrollment, all the way to reward dispersement, your customers can interact with your loyalty program exclusively on mobile if they choose. What they experience isn't just a scaled-down version of a loyalty site, it's a fully-featured mobile experience designed especially for smartphones. Customizable with your brand's branding, your users are able to check their reward totals, find locations, share deals on social, and use mobile-only coupons. LoyaltyOnDemand® is inherently mobile.
LoyaltyOnDemand® Features
Based on the tried and true methods of Brierley+Partners, LoyaltyOnDemand® packs tremendous features into an affordable package. Some of these include:
Real-Time POS and eCommerce Integration

Customer Demographics and Profiles

Mobile Communication and Push Notifications

Customer Service Portal

Welcome Gift

Performance Reporting and Executive Dashboards

Issuance and Redemption of Earned Rewards and Offers

In-App Marketing Purchases

Store Locator

Mobile Loyalty Website

Tracking of Spends/Visits

Social Login and Account Linkage
LoyaltyOnDemand® Product Outline
Program Configuration

Customers earn X points per $ spent

Hit Y point threshold, get a digital certificate for $Z

Configure earn/burn cadence & point/reward expiration

Leverage predefined tier structure

Accrue for social behavior and profile completion

We will recommend configuration parameters based on our experience and your business dynamics
Enrollment, Tracking and Rewards

Enroll online or through mobile app

Spend tracking either by mobile phone # or physical card with limited POS modifications required

Customers can also earn based on engagement with social media behavior

Rewards electronically distributed, then fulfilled at POS

Client can make loyalty account inquiries and changes with web-based customer service tool
Financial Modeling and Reporting

Based on some basic data about your customer base, we'll create a forecast of the financial benefits

We'll help you track your performance against the forecast with our standardized loyalty reports and dashboards

You can always download a data set for your analysts, or have Brierley provide insights at an additional cost
Member Experience & Communications

Mobile website – enrollment, program status and account information via client branded, responsively designed website

Mobile app - Loyalty program native mobile app (iOS, Android, Windows), creatively skinned to match client brand guidelines

Welcome email and monthly newsletter / account status
Data Integration

Two options; a.) link transaction to customer at POS and send full TLOG for processing or b.) leverage partnership with PnPLoyalty (or license) for in-store kiosk and receipt printer intercept device to transparently capture TLOG data without POS integration

Transaction logs must conform to our standardized format

Client provides reward certificate codes for loyalty issuance
Client Support

Hosted, SaaS solution

Scalable infrastructure with standard SLA's

Membership based pricing

Client support provided by an account manager who will be a primary point of contact for your questions and support needs.

Software is enhanced and updated quarterly
DALLAS, GLOBAL HEADQUARTERS
5465 Legacy Drive Suite 300 Plano, TX 75024
214.760.8700
a Division of Nomura Research Institute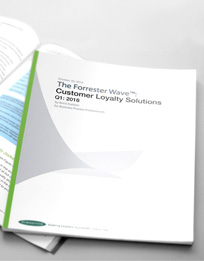 Brierley+Partners Named a Leader in Loyalty
The Forrester Wave™: Customer Loyalty Solutions for Large Organizations, Q1 2016
download the report